Ryan Cross: Brooklyn's new player | Insurance Business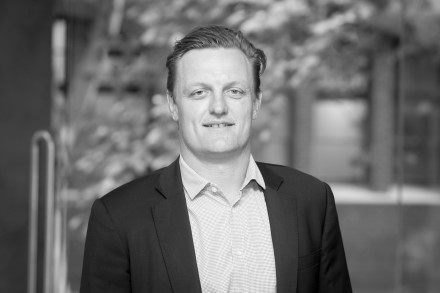 Once a centre on the Wallabies' Rugby World Cup squad, Ryan Cross is now set on charging up another field with a new, yet equally determined, team at Brooklyn Underwriting.
Cross is the latest addition to Brooklyn, as a business development executive, and enters the insurance world with an impressive array of achievements under his belt. Once a professional rugby union and rugby league player, he's starting to spend his days with brokers across Australia, offering them Brooklyn's product solutions.
Always a team player, Cross looks forward to what he can achieve with his new colleagues. "There's a good team [at Brooklyn]. Hopefully, I can help them keep going," he says.
From an early age, football was the career Cross was intent on pursuing. His father, Paul, was himself both a rugby league player and coach, spending many years as part of the Balmain Tigers in the 1960s and 70s. "I was always hanging around the dressing rooms and things like that," says Cross. "I always dreamed of being a rugby player, but you're never quite sure."
Kick-off
At 17 years old, Cross was selected to play in the Australian Schoolboys Rugby Union side. He played with the side for two years before being offered a contract to play rugby league with the Sydney Roosters. "I was lucky enough to be recruited by Arthur Beetson, who was a friend of my father," Cross told Insurance Business. "I always had a great relationship with Arthur. His passing was sad for the family."
As could be expected, the move into a professional league side was challenging for Cross. He says, "You're playing with some of the players you looked up to. You're never quite sure if you could go to that level. It was definitely a big learning curve for those first couple of years. Phil Gould was coach and he was a pretty hard taskmaster, and he grew me into the player that I [became]."
Cross went on to enjoy a successful nine-year career with the Roosters. In 2000, he was part of their first grand final side in 20 years, he was season player of the year in 2005 and, when he left the club in 2006, he had become their fifth highest try scorer of all time.
A conversion
But the end to his time with rugby league was far from the end of his career as a professional athlete. At 26 years old, Cross signed a two-year deal with the Australian Rugby Union to play Super 14 for the Western Force, based in Perth.
Cross described the response he received, following his signing to rugby union, as "pretty positive". He says, "I always wanted to do it and I got an opportunity and met some great people … I loved my time in rugby [union]." Cross' code switch gave him the opportunity to meet Tim Fairbrother, himself a player until 2012 and someone Cross now works alongside again at Brooklyn.
Following the move to union, Cross spent two seasons with the Western Force, culminating in his winning the player of the year award in July 2008, after what was considered a sensational Super 14 season. It was that year that Cross found himself selected to join the Wallabies. Cross described receiving the phone call from coach Robbie Deans as "a pretty special moment". He played his first game against France in Sydney.
And interestingly, in 2011, Cross found himself in France playing rugby in the French Top 14. He was offered a three-month contract to play with Perpignan. "It sounds glamourous, but it's probably some of the hardest training and football I ever had," he says. "They love the scrum over there … but it was a great experience, something that I really enjoyed and my family went over with me. That was the best thing about it."
Despite having a football career of many highs, Cross encountered some considerably challenging times. Asked to cite the greatest obstacle of his football years, he singles out breaking his leg in 2001. "That was a big injury, and I came back for four games and then, next year, I blew my knee out, so two years were pretty much wiped out … I never knew if I was going to come back." Cross names his eventual return to the Roosters, and his ability to go on playing football for a further 10 years, as a standout triumph. "Definitely coming back from those sorts of injuries is the greatest achievement."
Full time
After retiring from professional sport, Cross became a stockbroker. But after a couple of years, it was clear it wasn't the role for him. "It's a very insular sort of occupation … it was pretty hard that way.
"I needed somewhere where there was a team environment, where you're working towards one goal. I've found that at Brooklyn."
So, how was it that Cross even came to consider a career in insurance? "While I was in stockbroking, I was looking at what else was out there … someone introduced me to Paul Hines [Brooklyn's CEO] just to have a chat about life and different things, and he directed me towards a few people … one thing sort of led to another and there was a position available…
"Hopefully, I can be part of [Brooklyn's] growth and help them to get their goals."
Talking about what he's most looking forward to in his new career, Cross says, "There's a lot of scope to create new products for different needs in the insurance world, so hopefully I can find a little niche and grow that".
Advantage
On the attributes he brings with him from his time in both rugby codes, which he feels will be assets as he embarks on this new career, Cross says, "I think dealing with adversity is one. And, obviously, being in a team for such a long time, I think I work well with people and hopefully I can complement what they do and work together [with them] to grow".
David Porteous, director of Brooklyn, is enthusiastic about what he believes Cross will bring to the Brooklyn team. "I think it's the desire to succeed. It's a desire to do good things, but it's not one man out. It's a desire to do great things as a team, and I think that's why Ryan is going to be a perfect fit."
Talking about Cross' role, he says it's "…to be in front of brokers, introducing himself and the Brooklyn brand and products, but also entering into dialogue with these guys saying, 'Look we're not a massive insurer. We're a niche agency. We're here to help. What do you want from us?'
"And it's that collaborative approach that we take to business development, and I think that's Ryan skillset … I think that's why Ryan is a perfect fit for this role."