Warren Hutcheon and Bunmi Ajayi: Taking care of business | Insurance Business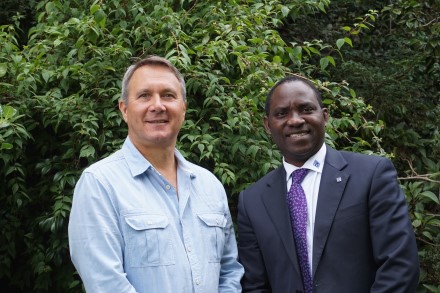 Bunmi Ajayi, managing director of Megalines, is becoming a well-recognised figure in the Australian insurance industry, having won NIBA's Broker of the Year award in 2015.
Beneath his exterior of calm and efficiency, Bunmi has been quietly evolving an automated risk management model for the family day care industry.
Outside of the larger day care centres dotted across our cities and regional centres, the industry is going through a boom, with over 20,000 solo-operating family day care providers employed across the nation, all of whom can have up to seven children in their care at any one time. This equates to a market of over 140,000 under-school-age children in the care of family day care providers. It's a significant industry in its own right, and given the growth of dual-income families, is expected to continue to grow steadily in the coming years. It's a model that works well on many fronts, allowing mothers to maintain an income from the comfort of their homes, and in many cases to have the ability to stay at home with their children.
From an insurance perspective, all day care providers require liability insurance to operate, including family day care providers who offer childcare services in their own homes. Given the growth explosion in this sector, family day care providers belong to and are administered by their delegated community centres, particularly in the initial set-up of the childcare service and the processing of government funding awarded to carers.
The need to innovate
Often the process of securing liability insurance can take hours to facilitate and a number of days before a policy is in place.
As Megalines' business grew, so did the time spent processing 40 to 50 insurance policies a day, which prompted Bunmi to approach this from a new and innovative angle. This resulted in the evolution of the manual model to a fully automated process, which cut time and ensured carers (or educators as they are now more generally described) were receiving immediate cover.
Automation of what was once a very manual process, and the commitment to this sector that Bunmi has demonstrated, has led to the rapid growth of Megalines, which is fast becoming a leading provider in the family day care sector. From a relatively small start in Victoria, Bunmi is now servicing hundreds of providers, or coordination units that recruit, coordinate and administer, on behalf of the Commonwealth Government, hundreds of family day care educators, who in turn care for over 5,000 children.
Ansvar has been insuring family day care for Megalines since 2007. Consequently, Bunmi has a deep awareness of what we offer in this specialist industry. It was our reputation in this sector, and the knowledge of our specialist teams who understand the specific challenges the childcare industry faces, that assured Bunmi we were the right insurance provider to work with long term.
Ansvar commenced working with Bunmi in 2013 to support his vision for automating the policy registration services for family day care providers. Bunmi came to us directly because of Ansvar's risk and insurance expertise in the childcare sector. It made sense for both partners – philosophically and commercially.
One of the challenges for this industry understands the exposure that applies to operators who are looking after young children. The childcare industry requires a controlled and regulated environment, even more so the family day care sector. There are multiple regulations and other requirements that need to be understood, in order to assist operators in minimising and managing risk more effectively.
Following a review of state legislation and other regulatory requirements, and audits being undertaken by carers, Bunmi and Ansvar worked together to provide an underwriting solution for family day care operators. Bunmi's insight was able to guide us in arranging the facility for the family day care industry.
The pluses of partnership
Bunmi's brokering business continues to grow from strength to strength, and this is primarily driven by his commitment, passion, and the depth of understanding he has of his customers. That said, Ansvar's role plays an important part in the growth of the Megalines business. Our open and honest partnership with Bunmi works so well because it is based on shared values. The key characteristic of our relationship is open and regular communication between all parties.
Regardless of the challenge or the issue, Ansvar is always on the front foot in helping Bunmi find the solutions he needs for growing his business and servicing his clients.
The automation of the policy sign-up process that Bunmi has worked on with Ansvar is a critical defining factor of Bunmi's business success, as this puts him ahead of his competitors, many of whom are still using a manual sign-up process. Automation means Bunmi's clients get an immediate response to their policy requests and can be signed up on the spot, which means faster liability cover for carers and hence far less exposure and risk for providers. Ultimately, this leads to better compliance and safer standards for the children in care.
However, while automation has helped propel strong growth of Bunmi's broker business, his model doesn't just rely on technology solutions. He remains committed to a continuous flow of contact and touchpoints with his clients. His team receives daily reports of online client activity and use this information to remain in touch with them. This strong communication with end users has allowed for an active process of continual improvement since the initial launch of automation two years ago.
The drive for continual improvement, coupled with Bunmi and Ansvar's understanding of the unique mix and demographics of those in the family day care industry, promises exciting expansion in 2016. Megalines organises risk and insurance roadshows regularly across Australia – where they hear first-hand what their customers want from their insurance providers.
So successful is Bunmi's model, and so great the demand for automated insurance servicing in the family day care sector, that Megalines is now rolling out automation of sign-up to Ansvar's family day care product across Australia.
Bunmi is a valued partner of Ansvar, and his passion and commitment to the family day care sector is what sets him apart. We are delighted to be able to support him in his ongoing success.