Aspiring pilot sees his insurance career take off | Insurance Business Asia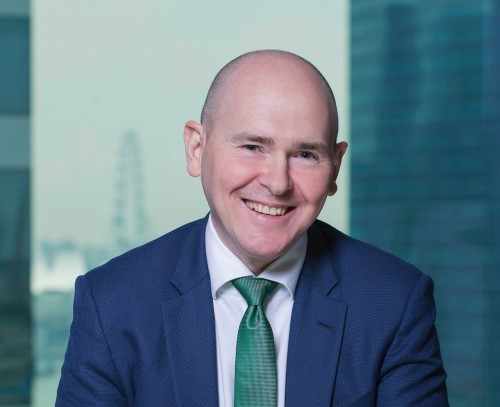 Mark Mitchell's childhood dream was to become an air force pilot but, instead, it was his insurance career that took flight.
"In my childhood, I wanted to be an air force pilot but the entry level for this field during my cohort was very high," Mitchell (pictured), chief executive officer of Allianz Global Corporate & Specialty (AGCS) Asia-Pacific, told Insurance Business.
This led to a chance career in insurance, when he happened upon a clerical job in the industry.
"When I left school, I wanted to travel but I needed to raise funds," he said. "A clerical job in insurance was the first job that came along but I quickly realised that with hard work and application, the opportunities to advance and travel were many in our industry and before I ever had time to book my intended trip, a promotion came along and the rest is history!"
However, his love for flying presented him with a dilemma.
"Nevertheless, when I was about 21 years old, I obtained an unrestricted private pilot's license, with the hope of converting it to a commercial pilot's license and then working full time in the aviation industry," he said. "But my insurance career was also taking off, so I ultimately decided to stay within the insurance industry, which I felt offered greater opportunities and faster career progression."
Mitchell's choice led to an insurance career spanning 32 years and counting, with the last 19 based in Asia. He worked for RSA, Chubb and NZI Insurance before joining AGCS in 2013 as CEO for Hong Kong and Greater China. In 2014, he was appointed to his current position as CEO of AGCS Asia and relocated back to Singapore.
According to Mitchell, one experience in his career that he will never forget is the aftermath of the 1999 Chi-Chi earthquake in Taiwan, when the insurance industry came together to assist survivors of the calamity.
"At that time I had just been appointed regional manager for property, machinery & marine at Chubb in Asia-Pacific," he said. "We arrived in Taiwan about two days after the earthquake and immediately started the claim settlement process. A significant number of our clients were affected and despite ongoing aftershocks, we knew this was an opportunity to be on the ground supporting our customers to quickly get back into business. We were not the only insurer to do so and I think the insurance industry as a whole was able to demonstrate its value by making the claims process as quick and painless as possible for our customers in a time of need."
As for the main challenge in his job as CEO, Mitchell believes that it's the need to react quickly and effectively to changes, both inside and outside the organisation.
"Externally, the pace of development within the insurance industry has definitely increased over the years," he said. "If we look at the Allianz Risk Barometer, some of the most important business risks in Asia-Pacific are market developments (#4), new technologies (#5) and changes in legislation and regulation (#6). Technology and innovation are now at the very heart of the industry. We have lots of new 'disrupters' and the insurance industry has to constantly innovate to remain competitive in the market."
Aside from technological changes, he also mentioned regulatory changes, which can either interrupt existing revenue streams or create an opportunity to increase sales, depending on a company's response.
"At AGCS, we are constantly scanning the regulatory horizon for opportunities to expand our product offering and/or geographic reach," he said.
"As a CEO, you also have to react to changes internally. For example, from April this year, our Asia and Pacific regions have been integrated, so I now have a wider geographical remit. This move allows us to build upon our already comprehensive strategy and capitalise on the strengths of both regions."
In his spare time, Mitchell enjoys visiting art exhibitions and auctions, as well as heading down to the track to watch horse races.
"My uncle was a successful horse trainer and, as a child, I had the opportunity to learn about the horse racing industry," he said. "In fact, attending horse racing in Singapore and (previously) Hong Kong was a common interest I shared with many colleagues. So I can socialise and network with my friends, clients, and industry peers during these events."
Finally, Mitchell advised insurance professionals to keep an open mind, just like he did when he chose the career he has been part of for over three decades.
"Whether your personal bias is sales, risk analysis, customer service or leading people, there is an opportunity to contribute in our industry and with an open mind and can-do attitude, you can build a very rewarding career," he said. "For me personally, I have enjoyed the international nature of insurance, the camaraderie within the industry, spending time getting to know customers across a wide range of industries and the career progression that comes with having an entrepreneurial spirit and a willingness to take decisions and exercise your best judgment."
Related stories:
At the crossroads of history
Taking the reverse route into insurance
Insurance is the "hidden gem of finance"