Aviva's Paul Nguyen looks back to his roots | Insurance Business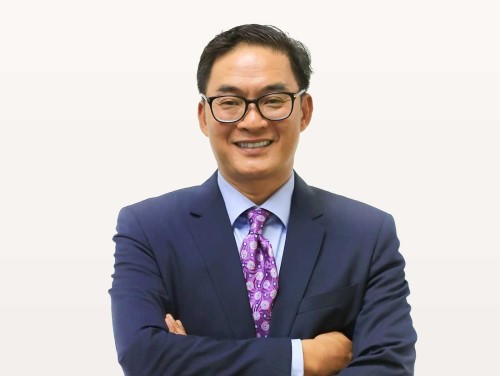 While many insurance professionals say they found the industry in adulthood, others would say that the road to a calling in insurance began in their youth. Aviva Vietnam CEO Paul Nguyen (pictured) is one of those who credits his childhood experiences as the start of the road towards an "exhilarating" career in insurance that spans three decades.
"My father was a mathematics teacher and he inspired me to learn it from a young age," Nguyen told Insurance Business. "I could probably say my interest in numbers was inherited from him. Another crucial factor was my decision to major in actuarial science at the University of Toronto which eventually led me to a career in insurance. Also, growing up in an immigrant family in Canada, I understand the value of caring for and helping people around me as well as contributing to the community, and the insurance industry allows me to do that."
After graduating, Nguyen spent the first 10 years of his career in Canada. In 1999, he moved south of the border into the US and joined American National Insurance. According to Nguyen, his experience in the US was rewarding, and it led to attractive opportunities in Asia. These included stints at AIA Hong Kong as a strategic manager for six Asian countries, an appointed actuary in Indonesia, and then executive director of AIA Financials.
"After years of working in both developed and developing markets, I've always thought of returning to my roots – Vietnam," Nguyen said. "So in 2014, I took up the position of Manulife Vietnam CEO before becoming the CEO of Aviva Vietnam in October 2018."
Looking back on his career to date, Nguyen mentioned his time in the US as one of the most memorable.
"For me, it has been an exhilarating 30 years in the insurance industry filled with countless memorable moments," he said. "If I have to choose, I suppose it has to be the time I spent in the States. Back then, the working culture was still quite conservative. As the only Asian there, I have to strive harder for excellence, as well as be brave and bold when faced with cultural bias. Looking back, this is indeed one of the most outstanding experiences in my career that pushed me to achieve more than I could ever imagine."
Outside of insurance, Nguyen revealed that he is very passionate about cycling, and that he might've become a professional cyclist if he did not choose an insurance career.
"Cycling requires me to be physically and mentally healthy, and I have to stay active and alert at all times," he said. "It reflects my motto in life too – If I rest, I rust."
Having worked in both developed markets such as Canada and the US, as well as Asian emerging markets such as Indonesia and Vietnam, Nguyen has seen different aspects of the insurance industry.
"One of the most outstanding differences is customers' perspective on insurance products," he said. "With low insurance penetration and the expanding middle class, Southeast Asian countries like Vietnam and Indonesia are considered the sweet spot for insurance in Asia. The key to success for insurers in these markets lies their ability to make insurance simple and accessible to the majority of the population."
In order to succeed in developing markets, insurers need to harness technology, and make digital as the core of their development strategy.
"Along with the Fourth Industrial Revolution, applications driven by artificial intelligence (AI) and internet of things (IoT) have changed the ways we live our life," said Nguyen. "The insurance industry is now on the verge of a digital shift. Digitalisation makes things more convenient, simpler and quicker which is what consumers want. I believe that digital and technological innovations are pivotal to our strategy and fuel our growth. Through continued investment in advancing our distribution, digital and analytics capabilities, we strive to build a diversified product portfolio and deliver excellent customer experience."