Europ Assistance opens Bangkok office | Insurance Business Asia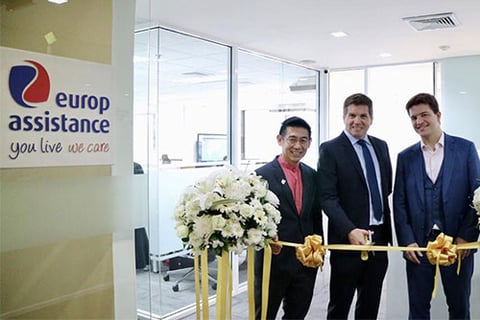 Europ Assistance has opened a new office in Bangkok, Thailand. The company said that the move furthers its commitment to the Asian region, where it has operated for the past 30 years.
The new office will allow Europ Assistance, which is part of insurance giant Generali Group, to provide its services to countries across Southeast Asia, including Thailand, Malaysia, Singapore, and Indonesia.
Pascal Baumgarten, CEO for Northern and Eastern Europe, Asia, and South Africa at Europ Assistance, told Insurance Business that the rise in international travel and accompanying risks means there is an equally growing need for assistance services. Tourism in Asia, he said, grew by more than 6% in 2019.
"Everywhere in the world, we want to be present in top destination countries as well as in countries from which people travel," he said. "Opening an office in Bangkok, the most visited city in the world, and in the middle of a quickly growing region, meets both objectives."
According to Baumgarten, the new office will allow it to better serve customers in Asia by understanding and meeting their needs.
"We see an increase in the meetings, incentives, conventions and exhibitions (MICE) segment as the economy grows creating strong potential for the business travel market," he said. "More Asian travellers are taking short trips to take a break from the city. Our solutions such as concierge and teleconsultation while travelling meet every need of this new marketplace."
Baumgarten also noted the increase in medical tourism in Asian countries such as Malaysia and India, as well as in Europe.
"Given that we have strong networks in both regions, we feel that we a perfectly positioned to service those travelling both to and from Asia," he said. "And compared to other countries, Asian customers are very digital-savvy, which works in our favour as we've been expanding our digital capabilities and can offer services that meet their high expectations."
Read more: Managing business travel risks in a changing world
A host of new risks
Baumgarten noted that aside from today's elevated political risk situation, climate change, changes to healthcare, and cyber security are also important to consider when making forecasts about assistance.
"As assistance providers, our core business and first priority is to keep our customers safe," he said. "As an example our corporate mobility solution allows employers to meet their duty of care towards business travellers and expatriates within their organisation against potential security risks as well as travel and medical issues."