Technology as the backbone of an insurer | Insurance Business Asia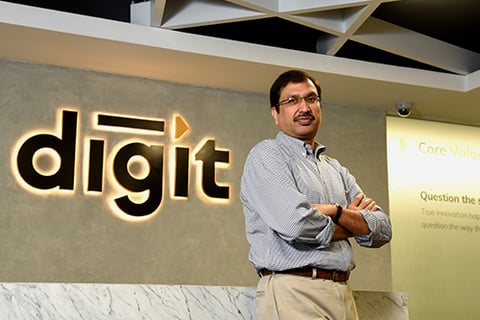 Kamesh Goyal (pictured) founded Digit Insurance in 2016, with the mission to "make insurance simple," as a response to the massive distrust of Indians towards insurance.
To achieve this, Goyal told Insurance Business, the company examined all aspects of insurance – such as products, processes, and brand language – with simplicity as a core principle.
As a start-up insurer in an emerging market such as India, Digit Insurance is able to incorporate technology from the ground up, without having to deal with legacy systems, unlike older firms. One example of technological integration that Goyal provided was the flight delay benefit in Digit's travel insurance product.
"We have made claim registration 100% automatic," he said. "Every time there's a flight delay, we pro-actively register the claim for the customer. Then we just ask for the boarding pass and the bank details and pay the flat benefit."
According to the veteran insurance executive, technology is the backbone of Digit Insurance, aiding it in its goal to simplify insurance.
"Technology and simplification of processes is a win-win situation for both the consumer and the insurer, ensuring a sustainable business for us," Goyal said. "We are one of the first insurance companies in India to be 100% on the cloud. From policy documents to claims, every process is paperless. One of the biggest advantages of being on the cloud is our ability for service recovery. We have simplified our processes end-to-end – from documentation to claims."
Goyal, who was with Allianz from 1999 to 2016, credited the Allianz Business System (ABS) as one of the major factors that helped it become one of the fastest insurers in India to go to market. ABS is an integrated insurance and IT system, based on an enterprise data model and covers all lines of business and all insurance-specific business processes.
"Since its inception, we developed granular micro-services that are integrated with ABS," he said. "It enabled us to become the fastest company to go to market with the ABS-based ecosystem, going live in just 123 days in October 2017."
Online and offline distribution
While Digit Insurance is a fully digital firm, it still recognises the need for offline partners, especially in areas where the internet isn't reliably accessible for consumers.
"Customers today are comfortable with buying online because of a macro environment of trust building around online transactions and companies," Goyal said. "Also, online is becoming the preferred channel of research before buying. However, for insurance, while we are seeing the online sales trend increasing, we also see that the offline demand for insurance through various channel partners like agents and dealers is not diminishing."
Digit Insurance, he said, is helping its offline partners digitalise by providing them with tools and online portals to assist throughout the insurance cycle – from sales to claims.
"We have seen that a trustworthy advisor like an agent, especially for non-motor policy buying decisions, is still one of the primary channels where people go to make their insurance purchases," Goyal said.
India's insurance industry embracing change
The insurance industry in India is embracing change, becoming more open to new ideas and technology, Goyal said.
"Regulators, too, are recognising these efforts and are supporting them. We, the insurers, should learn from the transition. Regulators, in turn, will see the advantages of simplicity and push the envelope. Thus, the consumer will benefit from customisation and lower costs."
Goyal highlighted the insurance technology sandbox implemented by the Insurance Regulatory and Development Authority of India (IRDAI), as one of the sources of change in the Indian market.
"Through the sandbox, insurance will see disruption across all aspects, and this won't just come from the new companies but also the traditional players," he said. "Wherever the inspiration comes from, the end-customer will benefit."