Revealed – the world's costliest flood disasters | Insurance Business Asia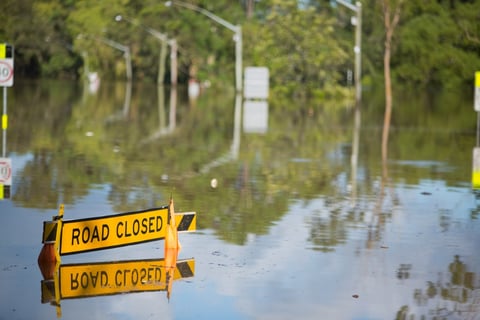 The world was ravaged by at least 50 flood disasters last year, which claimed more than 2,500 lives, making these events the second deadliest peril after earthquakes, according to Swiss Re Institute's latest sigma research on natural catastrophes. The combined economic losses from severe flooding reached US$82 billion in 2021 – the highest among all perils – with only about a quarter covered by insurance.
Still, overall insurance coverage was above the past decade's average of just 10%, reflecting a large protection gap. In the past 10 years, the report estimated that only 5% of flood losses in emerging economies and about a third (34%) in wealthy nations were insured. The largest flood protection gap was seen in Asia, with only 7% of economic losses covered by insurance. In contrast, 34% of flood-related losses were insured in Europe.
Read more: Global flood protection gap still considerable – Swiss Re
Europe, however, suffered the highest economic and insured flood-related losses in 2021, pushing its full-year economic losses from floods well above its average from 2011 to 2020. During the same period, Asia experienced the most economic damage from flooding, amounting to about US$30 billion, most of which was uninsured.
According to the report, "economic growth and the accumulation of exposed asset values have been the main drivers of rising flood-related losses over time." Last year's events, however, have confirmed that a wider range of factors contribute to loss outcomes, including urbanisation, ageing or lack of flood-control infrastructure, more extreme rainfall from tropical cyclones, and the impact of climate change.
Top five costliest inland flooding events in 2021
Swiss Re Institute's latest natural catastrophe report also revealed the costliest inland flooding events the world has seen in 2021. These are the ones that have caused to most economic and insurance-related damage. The list is arranged according to insured losses and excludes tropical cyclone-induced flooding.
1. Central-Western Europe flooding
Economic losses: US$41 billion
Insured losses: US$13 billion
The devastating floods that happened in central-western Europe in July claimed more than 220 lives and caused an estimated US$41 billion in economic damages, about a third of which was insured. This marked only the second time that a standalone flood event has resulted in insured losses exceeding US$10 billion.
The flooding resulted from heavy precipitation that spanned a few days, which occurred after storms that hit the region in previous months left the soil saturated, decreasing its drainage capacity. Germany, Belgium, Luxembourg, and other neighbouring countries experienced extensive flash floods, with the German states of Rhineland-Palatinate, North Rhine-Westphalia, Bavaria, Thuringia, and Saxony worst affected. These areas recorded more than 180 fatalities.
2. Henan region flooding (China)
Economic losses: US$19 billion
Insured losses: US$2.3 billion
2021 brought record seasonal floods in China, resulting in almost US$25 billion in losses. Of this loss, only about a tenth was covered by insurance. The central province of Henan accounted for a lion's share of the economic damage, which was the costliest in the Asia-Pacific region in the past year.
Read more: Chinese insurers facing wave of claims following Henan floods
The brunt of losses was from the provincial capital of Zhengzhou, where rain equivalent to its annual average fell in a span of three days back in July. This caused widespread damage and disruption in a city that acts as a major transport and industrial hub. Overall, almost 400 lives were lost due to massive flooding in the province that lies along the Yellow River.
3. Malaysia flooding
Economic losses: US$1.4 billion
Insured losses: US$700 million
In mid-December last year, Malaysia experienced the worst flooding in decades when the Southeast Asian nation saw three days of torrential rain over a weekend. This caused severe floods in eight states, partially submerging towns and villages and forcing more than 71,000 people to evacuate their homes. The death toll reached 56.
About half of the overall economic impact was insured, according to Swiss Re Institute's data.
Read more: Malaysian insurers expedite claims settlement amid flash floods
4. Southwestern British Columbia flooding (Canada)
Economic losses: US$3.4 billion
Insured losses: US$600 million
Back in November, a series of atmospheric rivers brought unprecedented rain to British Columbia's southwestern region for over a two-week period. These weather events caused devastating floods and mudslides that ravaged homes, agricultural farms, and businesses. The result is the costliest inland flooding in the province's history, with only about 18% of the damage covered by insurance.
5. New South Wales flooding (Australia)
Economic losses: US$1.1 billion
Insured losses: US$400 million
Massive rainfall on Australia's east coast in March 2021 led to widespread flooding in New South Wales, affecting several regions, from the North Coast to Sydney's metropolitan area in the south. The suburbs of Sydney experienced the worst flooding in almost 60 years.
The Australian government declared many parts of the east coast a natural disaster zone after severe floods forced 18,000 people to evacuate and more than 1,000 to be rescued. More than a third of the total economic losses were insured.
Secondary peril
According to the Swiss Re Institute, flood is currently considered a secondary peril, meaning it receives "less rigour in industry monitoring and modelling" and "weaker exposure data capture and claims tracking." The institute added that the situation has led to "some underestimation of actual exposures to catastrophe risks." Because of this, it is calling on the industry for a more rigorous assessment and modelling of flood risk.
Read more: In a marketplace flooded by risk, brokers and agents can help insureds 'sink or swim'
"Though there have been improvements over the past decade, flood is still afforded less attention and rigour in exposure data and modelling data provisions than primary peril risks. This is even with flood ubiquitous risk, affecting an estimated 2.2 billion people around the world, more than any other peril," Swiss Re Institute wrote in the report. "In addition to the flooding in central-western Europe and New York in the wake of Hurricane Ida, last year also brought record seasonal floods in China and India, and after Typhoon Rai in the Philippines. These events confirm that water inundation is one of the most destructive and recurrent perils globally and, further, one that demands closer attention."