New RIMS CEO on his first order of business | Insurance Business Asia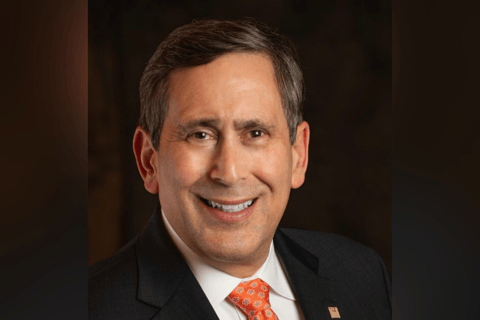 On June 01, Gary LaBranche (pictured) took over as CEO of RIMS, an international risk management society with 80 chapters located in seven countries.
LaBranche brought his extensive experience as an executive for several industry associations to RIMS and will steer the organization through challenging times, as the global economy faces the aftereffects of the COVID-19 pandemic, the growing cyber threat, and the ongoing conflict in Ukraine, among many other risks.
Corporate Risk and Insurance spoke with LaBranche about his first order of business upon becoming CEO, the path that led him there, and his goals for RIMS and the greater risk management profession.
"I've been a long-time association professional and have served as the CEO of several different associations, including most recently the National Investor Relations Institute," LaBranche said. "NIRI's members are investor relations officers of publicly traded companies with a combined valuation of $9 trillion. Before that, I was CEO of the Association for Corporate Growth, which serves the private equity community. So, I focused on private equity with ACG and then public equity with NIRI. Both of those positions dealt with high-level financial professionals from every sector and who face a wide range of challenges."
Having only recently been hired by RIMS, both LaBranche and the rest of the organization have a significant learning curve ahead of them. They will have to familiarize each other on many matters, including their personalities and work styles. According to LaBranche, this is where the value of listening comes in.
"My number one priority is to listen," he said. "I've done my research before accepting this role and I'm excited to get to know RIMS staff, the amazing volunteers that serve on our global board of directors, committees and in our chapters, as well as all our partners. I want to hear their stories and what they value about RIMS, what they expect from this society, and how we can support them moving forward. It is not only about hearing how the operations or mechanics of the society work, but the why behind it. I want to know the reason these operations or the society's structure are the way they are and ensure it continues to align with our long-term goals. The society is a means to achieve together what individuals cannot do alone."
LaBranche believes that RIMS shares the same challenges faced by many other membership organizations that serve society in various ways. These include keeping pace with rapid advancements in technology and the world of new cyber concerns.
"The pandemic has also reinforced the importance of business continuity planning, supply chain resiliency, vendor and revenue diversification, as well as the development of proactive strategies that enable organizations to quickly adapt to sudden change," LaBranche said. "It is critical that we learn from this crisis so that we are better prepared for the next one.
"Lastly, but certainly not least, is talent risk," he said. "Organizations around the globe are grappling with this issue. How do we retain our current staff and attract great candidates to join our team? Addressing talent risk hinges on organizations' ability to build diverse and inclusive corporate cultures that care about their employees, customers, and stakeholders. Developing such a culture requires commitment, strategy, and resources but the rewards are significant."
According to LaBranche, RIMS and other membership societies must continue to demonstrate the value of membership in order to grow and become more effective in serving their members, their industries, and society at large.
"I am an association believer," he said. "I believe in the power of professional associations to create opportunities for their members that allow them to achieve greatness in their careers and make a difference in their communities. Professional associations provide executives with an incredible advantage. Beyond the resources, associations like RIMS unite professional communities and provide an invaluable platform for sharing ideas and best practices so that, collectively, we can meet and exceed those expectations. It takes a village – a community – to raise a risk professional. For more than 70 years, RIMS has been a leader in delivering exceptional risk management education, resources and networking opportunities. It is my goal to keep this momentum going."
As the world emerges from the pandemic, LaBranche recounted the lessons he and other professionals have learned.
"The pandemic has taught us that you can never be too prepared," he said. "Professionals from all walks of life, all industries and at all experience levels gained a greater appreciation for professional development. I strongly believe that we will see a resurgence in this commitment to professional development, especially in the risk management profession where expectations continue to rise."
Another major realization LaBranche had was how much businesses could do, even when they were working virtually.
"Technology has allowed businesses to hire experienced professionals from diverse geographic locations," he said. "It has expanded the pool of service providers and allowed for greater collaboration with partners and thought leaders. However, even with all the advantages of virtual collaboration, the recent pandemic also highlighted the value of meeting face-to-face. It was never more apparent than at the recent RIMS RISKWORLD, the society's annual conference. That week, nearly 8,500 risk professionals pounced at the opportunity to meet their colleagues and business partners in-person once again. Much of business is about relationships and the last few years have been a stark reminder of just how important these in-person opportunities are."
LaBranche has had numerous achievements throughout his career, but what he counts as his greatest success was seeing others succeed.
"I have written a book, articles and produced a feature-length movie," he said. "I have spoken in front of large audiences, opened trading on five stock exchanges, achieved key public policy victories and received awards for my achievements, but the thing I'm most proud of is being a mentor. Over the years, 18 people who worked for me at one point or another went on to become association CEOs. That's one of my proudest accomplishments. I have been blessed with great mentors throughout my life and it is beyond rewarding to be able to do the same for others."