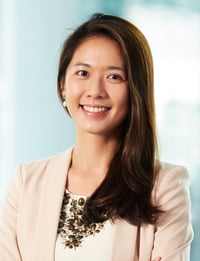 Daphne Boon, Allied World Asia Pacific
Vice President, Head of General Casualty – Asia Pacific
Allied World Asia Pacific
Daphne Boon joined Allied World in 2016. Leading a team of 9 underwriters across Allied World's Asia Pacific offices in Singapore, Hong Kong, Australia and Malaysia, Daphne works to grow the portfolio's strategic direction, underwriting excellence, portfolio growth and market engagement.
In 2018, Daphne was nominated to represent Asia Pacific in Allied World's global High Potential Programme (HIPO). This program selects 10 future leaders of the company from across departments and geographies, and provides a structured leadership program consisting of coaching, training and project work designed to build both personal and professional skills. Within Daphne's cohort of HIPO delegates, she undertook a real-life commercial challenge as part of their project work – to identify an opportunity for non-risk bearing revenue growth for the company. After several months of work, Daphne and her team presented a full business case and strategic recommendation to Allied World's executive leadership team, with many of the suggestions now being adopted within the business.
Daphne is also member of Allied World's Asia Pacific Leadership Team and has recently been appointed the regional lead for cross-sell initiatives between Singapore and Hong Kong, championing a strong cross-sell culture and strategy for the company.