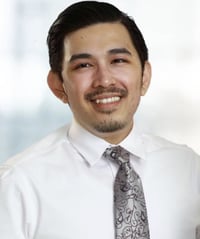 Jeffrey Lacson, AIG / General Insurance International - Asia Pacific
Chief Financial Officer - Philippines, Guam & Micronesia
AIG / General Insurance International - Asia Pacific
Age: 35
Jeffrey Lacson serves a Board Member and SVP / CFO of AIG entities in the Philippines, Guam and Micronesia. Overseeing insurance operations and finance functions in-country and in service centers in India, he also liaises with other governance functions in a number of other countries. During Lacson's time with the company, he's helped improve financial reporting, and also improved yield rates for short term investible funds.
It's no small feat, either – his predecessor was in the role for close to 25 years and well-respected, so comparisons between the two were always going to be drawn in terms of his performance. Yet within six months Lacson had already marked himself out to his managers as an expert in his field.
Lacson has future aspirations of establishing a fintech/insurtech company in the future. He also actively participates in industry association to discuss tax issues, the impact of IFRS 17 and advocates for better investment opportunities for small companies.