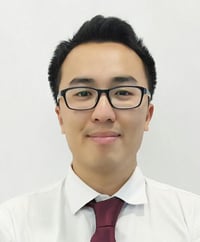 Samuel Chu, FWD Singapore Pte Ltd
Head of GI Actuarial, Data and Analytics
FWD Singapore Pte Ltd
Age: 32
Being one of the youngest GI Actuarial Heads in Singapore and a millennial, Samuel Chu constantly looks to improve on and innovate existing processes through technology. By harnessing technology, pricing and valuation, business processes are streamlined – creating time and cost efficiencies. To date, Chu's innovation-centric approach to an important function of the company has resulted in several wins for FWD Singapore.
In addition to driving time and cost efficiencies for the Company through smart implementation of technology, Chu's innovation has also led to benefits for FWD Singapore's policyholders.
For example, his successful launch of the Data Lake and Data Warehouse initiatives in the Company in 2019 has resulted in the democratisation of customer data collected by the Company. With the data now organised efficiently, FWD Singapore is able to form a "single customer view" of the company's policyholders, which means customers can now receive services and recommendations customised to their needs and preferences, resulting in better overall experience for them.
Chu aims to change the way people feel about insurance, re-imagining the business model to be both profitable and customer-centric – such as via modular product and pricing, ecosystem distribution, profit-sharing arrangements, and greater data transparency, all aimed to serve customer needs.