IB 4.03 | Insurance Business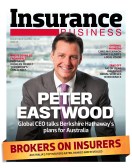 Expanding horizons
Global president and CEO of Berkshire Hathaway Specialty Insurance, Peter Eastwood, talks to Insurance Business about the arrival of the most anticipated new market entrant in Australia in recent years. Just what can the local industry expect from this American icon?

Brokers on insurers
The votes are in. Who have brokers voted the best insurer of the past year? All is revealed in our Brokers on Insurers feature

Original pioneers
How will Lloyd's in Australia help the industry behemoth achieve its global 'Vision 2025'? We found out from Oz chief, Chris Mackinnon

Take off
On the technology front, Insurance Business reveals how one global insurer plans to use unmanned aerial vehicles in claims inspections

Where do we go from here?
It's an issue that currently has much of the industry talking. We ask the experts to weigh in on broker education

Valuing strata protection
Two experts in the strata insurance space offer their thoughts on the market and have a few tips for brokers

Google eyed
The technology giant has changed our lives. Now, can Google change the insurance industry?