IB 4.05 | Insurance Business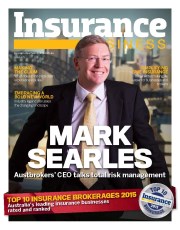 Top 10 Insurance Brokerages 2015
For the fourth year in a row,
Insurance Business
has rated and ranked Australia's independent brokerages and determined who deserves top honours in 2015. So who took out the prized positions in this year's list?
Surviving and thriving in challenging times
Mark Searles
, CEO and MD of
Austbrokers
, talks about inaccurate media reporting and the group's income diversification strategy
Making the claim
What are the hallmarks of a first-class claim experience? And where do things so often go wrong in claims handling? Experts share their thoughts and tell
Insurance Business
about their own innovations in this space
Embracing a bold new world
International insurance industry legend, Stephen Catlin, tells
Insurance Business
about building his global business and shares his thoughts on surviving in our rapidly-changing industry
On the marine agenda
Kai Brüggemann, head of marine at HDI-Gerling, shares key discussion points from the International Union of Marine Insurance conference in Berlin. What can Australian players take away?
Simplifying SME insurance
SURA Commercial's Ian Faragher discusses building an SME-targeted product with the principle aims of keeping things simple and talking to business owners in a language they understand
Protecting the harvest
What can be done to convince farmers to protect their most valuable assets?
Insurance Business
looks at underinsurance and noninsurance of agricultural crops in Australia