IB 5.01 | Insurance Business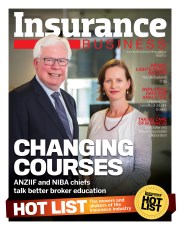 The Hot List 2016
For the third year in a row, the Insurance Business team brings you its annual Hot List, comprising of a range of senior figures who've recently found themselves - or are likely soon to be - at the centre of key industry movements and events. So who's featured in the 2016 list?
Changing courses
ANZIIF
and NIBA have entered an education partnership that sees
ANZIIF
endorsed as NIBA's preferred supplier of broker education. Why do they believe
ANZIIF
's new content represents the best way to educate up and coming brokers? Read what the leaders themselves have to say in a special 'Big Interview' piece
Bright lights in the big city
What's ahead for the UK's general insurance market? Are we likely to see significant further M&A activity, a greater focus by the FinTech sector on insurance, and more pressure on brokers from technological advancements? Two London analysts share their expectations
Deploying data and analytics
One local insurance network is now using the data it's collected to benefit its brokers and clients. How significantly will they benefit, and how costly is the technology to employ? And are these kinds of initiatives the way of the future for successful brokerages?
Taking care of business
CEO Warren
Ansvar
tells the story of
Ansvar
's partnership with one broker to deliver better insurance solutions to family day care providers. Find out precisely how the partnership has benefited not only the community, but also broker and insurer too
A reframed forum
The
Insurance Council of Australia
's Annual Forum is coming up. What's changed this year and what can brokers expect from the speakers? Insurance Business talks to the ICA's
Campbell Fuller
to find out why it's crucial for brokers to stay across the issues tabled at this event
Heading west
One leading Australian business law firm has expanded its operations, including its insurance practice, to Western Australia. Two leaders at Hall & Wilcox talk about the firm's new office, and its aspirations for serving the insurance industry in times to come