Doing disasters better | Insurance Business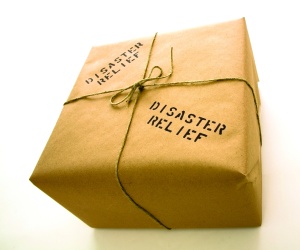 Whether it be bush fires or cyclones, hail storms or high winds, natural disasters are becoming an ever-increasing part of Australian life.
As the country continues to grapple with the impact of natural disasters from the tropical north to the arid west and everywhere in between, what can government, businesses and communities do to manage this impact?
Any discussion on how the country can be better placed to deal with disasters starts long before disaster strikes.
David Sinai, head of property treaty underwriting at
Swiss Re
, noted the importance of mitigation and preparation at a recent briefing organised by the Australian Science Media Centre.
"The most important steps to recovery should happen well before the disaster strikes by building resilience," Sinai said.
The Northern Australia Insurance Premiums Taskforce agreed with this assessment, and have released their long-awaited report which pointed a path towards mitigation as the best way to help those at risk of cyclones in Northern Australia.
"Mitigation to reduce the risk of damage from cyclones is the only way to reduce premiums on a sustainable basis," the report states.
"It was widely considered by stakeholders that encouraging mitigation should be part of any Government response to the rise in insurance premiums."
Speaking on the release of the report at the
Insurance Council of Australia
Annual Forum, minister for small business and assistant treasurer Kelly O'Dwyer said it was "essential to encourage mitigation" in Northern Australia.
"Mitigation spending is something that is not always valued until there is a dire need for it, and it is something that governments and households often put aside in favour of funding more immediately useful assets," O'Dwyer said.
It is not just the north of the country that can benefit from an increase in mitigation spen ding, as communities across Australia face a variety of risk.
Peter Harmer
, CEO and managing director of
IAG
, called on the industry, government and those in the community to work together to bolster disaster defences.
"We have a social obligation to do more to help people and communities feel safer and to recover more quickly from natural disasters," Harmer said, "and it's in the national interest for government and businesses to work together with our communities to achieve this by focusing more on prevention.
"This means investing more up front in openly sharing data, building resilient infrastructure and creating stronger and better-prepared communities."
Mitigation is not a silver bullet for the problems posed by natural disasters, as there are often underlying issues that linger on years after disaster strikes.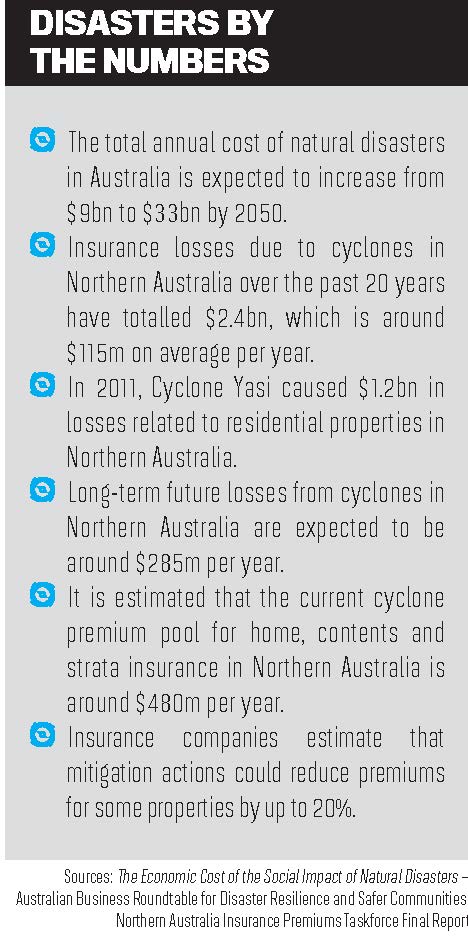 Jessica Tearne, psychologist and senior research official at Telethon Kids Institute, noted that the psychological impact of natural disasters can have a lasting impact on communities.
"We don't often talk about the psychological factors after disaster; we are focused on the practical – and there are huge economic and social costs associated with the psychological fallout from disaster that can have big impacts on our communities."
What next for Australian communities threatened by disaster? While the government won't release its response to the Taskforce report until later in the year, O'Dwyer gave some clues as to what each stakeholder can do to help those at risk.
"State governments can contribute by strengthening building standards to reduce the prospect of cyclone damage being inflicted on buildings. For local governments, undertaking public works on such things as water manage-ment and flood protection infrastructure would assist in reducing cyclone-related flood damage to property," O'Dwyer continued.
"Homeowners can also contribute to mitigation by making some basic changes, often at little cost. Small actions such as securing the garden shed, putting away the shade sail and storing the outdoor furniture where it won't become a flying missile in a storm can all contribute to reducing damage.
"The insurers can contribute to reducing the cost of premiums by recognising the reduction in risk from this mitigation work. They can also look at the design of policies to allow a greater excess for cyclone damage, so that the insured is being rewarded for assuming more of the cyclone risk while having a more limited excess for other events such as fire and theft."
The reality of Australian life means the threat of disaster constantly lingers just around the corner. With an increased focus by all stakeholders on mitigation, it is hoped that while the country may continue to face the threat, we will be ready to meet the challenge.