A family affair | Insurance Business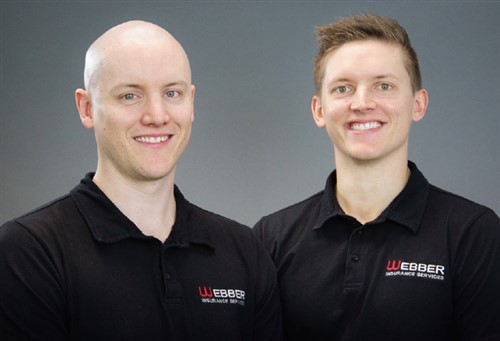 Since 2011, Webber Insurance Services has been working to meet SME insurance needs in Adelaide and around Australia. IB sat down with Chris and Daniel Webber to find out more
In 2011, Since 2011, Webber Insurance Services has been working to meet Shusband-and-wife team Chris and Ahsha Webber set out on a mission to provide quality insurance advice and solutions. They set up shop in Kent Town, Adelaide, opening Webber Insurance Services – an organisation that works for the client and takes great pride in offering smart insurance and educated risk management solutions.
"We felt that the smaller end of town didn't have access to good-quality service," Chris says, "as most companies focus on the larger businesses that bring in the bigger premiums."
The next 12 months would confirm the demand for the company's services. Chris's brother, Daniel, came on board in 2013, initially as an employee, but he eventually became a shareholder and director.
Both brothers had an extensive background in insurance prior to working together. Chris had held a variety of positions, including commercial claims, underwriting, insurer BDM, corporate broking and SME broking. Daniel followed a similar path, though with his own unique twists and turns.
"I've been in the industry around 13 years now – after high school, I worked in a call centre selling personal insurance products," Daniel says. "I then got a broker assistant job, where I had my first experience with commercial insurance. I worked at a few different placesME insurance needs in Adelaide and around Australia. IB sat down with Chris and Daniel Webber to find out more afterwards, specialising in small business."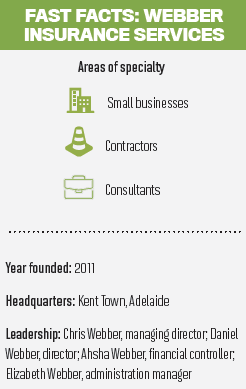 Given that the two brothers are owners of an SME themselves, they're well attuned to the challenges their clients face when it comes to insurance. Though the company caters for a wide variety of clients, the bulk of its business has come through focusing on specialised industries, particularly construction and its related sectors.
"A lot of our customers are very time-poor; they're confused about which insurance is best for them, and they don't have the time to sift through everything," Chris says. "But having the right cover is crucial, so we help businesses navigate which insurance is best for their needs, while also saving them time."
The brothers have also put a keen emphasis on staying current with industry trends. Webber Insurance's staff all undergo regular training to keep up-to-date with the latest developments, ensuring they're well placed to regularly review client circumstances and provide advice accordingly.
"We spend a lot of time upskilling our staff to make sure they're providing quick, accurate information for every client," Daniel says.
With this emphasis on staying up-to-date, both brothers are also staunch advocates of the positive role that tech can play within insurance. "Technology has bred an expectation for faster transactions among clients," Chris says, "so we need to have the right tools in place to meet these expectations and provide the service that clients require."
Part of this eager adoption of tech has been enabled through the firm's close relationship with Steadfast. Since obtaining its own AFSL in 2016, Webber has been operating as part of the Steadfast Group's broker network, which is the largest in Australia.

"Steadfast has been at the forefront with insurer systems and broking platforms," Chris says. "We've embraced them accordingly and used them to grow our business."
This commitment to ongoing education isn't just an internal initiative, either. Looking to the next 12 months and beyond, Webber Insurance Services hopes to expand its client education programs. Video production is one of the means being considered for this purpose, Daniel says, alongside social media, blogging and in-person meetings.
"Making sure that clients have access to the right information around exposure and risk management so that they can make informed decisions is a key part of our future planning," Daniel says. "We pride ourselves on offering smart insurance and educated risk management solutions, so it's a natural extension of what we do."