Richard Enthoven: ​Focusing on the Future | Insurance Business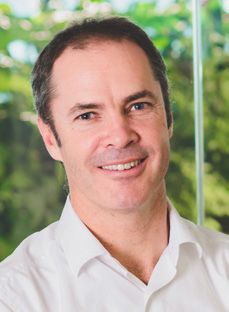 After seven years as managing director of Hollard Australia and chairman of the South African operation, Richard Enthoven is going back to focusing entirely on the Antipodean business he started 15 years ago. He explains the life-changing decision to Chinwe Akomah
Insurance Business: Tell us about your background and career, and how you got to where you are today.
Richard Enthoven:
After I finished my master's degree at the London School of Economics, I worked for
AIG
in South America and Progressive Insurance in the US. I moved to Australia in 1998 and set up a small insurance agency in 1999, and that little business has grown into what is today Hollard in Australia.
IB: Could you tell us the story of Hollard Australia's development?
RE:
It was just a little insurance agency at first and it grew into Hollard. It wasn't even called Hollard in the early days. It was a very unstrategic decision made on an opportunistic basis. I thought I saw a gap in the market for non-traditional distributors of insurance to get into the insurance market. Our first client in Australia was Amway. We facilitated their entry into the life insurance market in 1999. Since then we have looked for non-traditional forms of distribution. Never in my wildest dreams did I imagine we would have the presence in Australia that we have today.
IB: You recently abdicated your role as Hollard South Africa chairman. What led to that decision?
RE:
For the past seven years I've had two roles – I have been the MD of the Australian business and the chairman of the South African companies. I came to a view last year that I was not able to give the kind of commitment to our South African operation that the role of chairman required and that it needed a locally based chairman. Furthermore, I have three young and wonderful kids and the travelling was becoming increasingly arduous. So we commenced a handover process that has gone seamlessly. I am energised by the opportunity to focus much more of my time and effort on the Australian market.
IB: What does 2014 hold for Hollard Australia?
RE:
Today, Hollard has nearly 1,000 staff and circa 800,000 policyholders. We have an amazing footprint. The question is, where to from here? We have spent a lot of time thinking about that and the simple answer is: We will do more of what we are doing and hopefully do it even better – we will keep supporting our partners to grow their businesses, we will keep growing our direct-to-the-consumer businesses and focus on Woolworths becoming a major player in the insurance marketplace. We will support and underwrite a number of insurance entrepreneurs who will start new insurance initiatives over the course of this year.
IB: Can you tell us more about the telematics offering Hollard is to launch in Australia?
RE:
We have been doing telematics as a group for seven years. We have developed a significant amount of intellectual property [IP] about how to use telematics in motor insurance underwriting and we intend to leverage that IP in the Australian marketplace in due course. We have people working on this exact question right now. The IP applies equally to both personal and commercial lines.
IB: Hollard has worked in partnership with Woolworths, providing it with an insurance offering for almost three years. The general insurance industry has been quite vocal about their concerns regarding retailers entering the insurance market and competing on price. How do you respond to that?
RE:
Brokers play a hugely important role in the broker market and offer a valuable service to their clients, which is nominal advice and good counsel, and that is an incredibly important aspect of the financial services landscape that needs to be honoured and supported.
However, there is also a space for insurance companies to deal directly with the consumer, particularly for products that are increasingly commoditised and where price is a major part of the purchasing decision.
The direct and intermediated markets can work well together, and there is no need for one to be viewed as more superior or more valuable than the other.
IB: You've mentioned that we are on the precipice of a new wave of underwriting start-ups. How do you think the landscape will change in the coming months?
RE:
Over the past few years we have seen a wave of corporatisation, which is effectively entrepreneurial businesses being bought by the large insurance corporates and being incorporated into their standard processes. That wave of consolidation has created space for specialists, for people willing to out-execute non-specialists in their chosen niches.
I am very confident that we will see the next wave of insurance start-ups take place in the next 12 to 18 months – we are speaking to a number of them already. These things tend to move in cycles and we are at the point of the cycle where there is clearly a space and opportunity for people to live the dream of being an entrepreneur.
IB: What are the biggest changes you have seen in the insurance industry since you started Hollard in Australia?
RE:
Only three of the top 10 insurance companies from 15 years ago exist in the same form they did back then. Seven of the 10 have either merged, demutualised or been sold. There has been an incredible transformation and consolidation of the marketplace, and that is a trend that has played into our hands and allowed us to prosper.
The second big trend is changes in distribution. Fifteen years ago, the primary form of engaging with customers was retail branches. The insurance industry converted that infrastructure into call centres, and those centres have seen their traffic go online with breathtaking speed. We are now seeing that online traffic go mobile, so how we engage with customers has changed dramatically in 15 years, and how we distribute products has too.
The most significant force for change in the insurance market will be the entrance of major retailers – not just Coles and Woolworths but the likes of Amazon, Google and Apple too. They have an incredible ability to leverage the footprints, customer bases and analytics and their phenomenal retail acumen to become major players in the insurance industry.
I personally think that the Woolworths Insurance initiative has more potential to shake up the market than any other I have seen. I am focused like a laser on making it happen.
IB: Late last year, ASIC rapped Hollard's knuckles because of its funeral insurance advertisement. Did Hollard understand ASIC's concerns regarding its advertisement of funeral insurance?
RE:
About 18 months ago, ASIC communicated to us that they were concerned with some aspects of funeral insurance advertising across the industry, and we engaged with them very proactively. In fact, we were the first insurer to actively do so. We listened to them and worked with them to change our advertising to deal with their concerns. We also used that as an opportunity to revisit the product and ensure that it was appropriate for its target market. We made changes to the product for both new and existing customers to make the product more relevant to its target market and better value for consumers.
ASIC was very pleased with the decisions we made, not just in terms of the advertising but going above and beyond their concerns to look at product as well.
IB: At an ANZIIF breakfast briefing late last year, you said social media is "uniquely ill-suited" to insurance. Can you elaborate on that?
RE:
I love social media, especially Twitter. Social media is a phenomenal way for us to engage with our customers, so I am not against social media at all. In fact, it is one of my missions to make social media work for insurance.
However, as an industry, we need to accept that when things go well in our engagement with consumers, that is what they expect, and so that tends not to attract a lot of interest on social media. When things go badly, it is hugely emotional for people and therefore social media represents a wonderful way to express that emotion and galvanise support around that emotion, and that is what I mean when I say the structural dynamics of our industry are ill-suited to social media.
That does not mean we should not embrace social media, because that would be putting our head in the sand, but social media is a unique challenge for our industry and one that will require a lot of thought and hard work.
At Hollard, we view social media as another way to engage with our customers, and we treat it no differently to someone calling our call centre. We have also created teams of people dedicated to social media. They live and breathe social media and manage our presence and customer engagement in the digital space.
For those customers who prefer to be serviced using social media, it is hugely rewarding. While that is a limited number at this stage, it would be foolish to think that number will not grow over time.