A one-woman show | Insurance Business Australia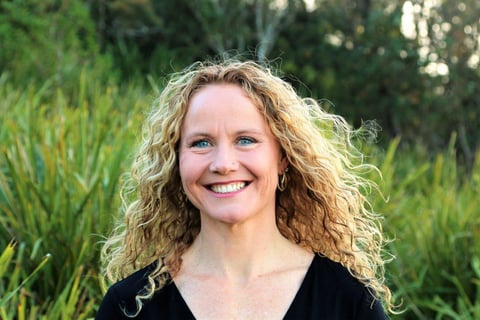 As an adventure lover and sole director of Coastal Insurance, Nic Curkoski has a lot on her hands – so having the behind-the-scenes support of a wider network is essential
Nic Curkoski is known within the insurance industry for her fearless pursuit of physically gruelling endeavours – including hiking the Kokoda Trail, climbing Kilimanjaro and reaching Everest Base Camp – but she also balances her love of adventure with the demands of running a business by herself.
"I've been told that I'm the one woman who can jam 36 hours into 24 while wearing high heels," laughs Curkoski, who's also a mum of two, has managed to squeeze in a celebrant's qualification and is weeks away from becoming an accredited personal trainer.
All of this, she says, has only been possible thanks to Insurance Advisernet. As an authorised representative of the group, Curkoski runs her own business but also has access to a network of support.
"IA reps are extremely fortunate that we are all willing to work as a team and leverage each other's expertise where required," she says. "The culture amongst the group is pretty special – we are all individual businesses, but we are more than willing to assist our colleagues as required."
Of course, it hasn't all been plain sailing – when she first launched her business back in 2007, Curkoski was forced to step outside of her comfort zone and begin an entirely new book of clients.
"There were clients I'd had for 11 years who I wasn't able to do anything for," she recalls. "I'd gone from an office where the phone never, ever stopped ringing to setting up my own office where I was sitting looking at the phone, begging it to ring!"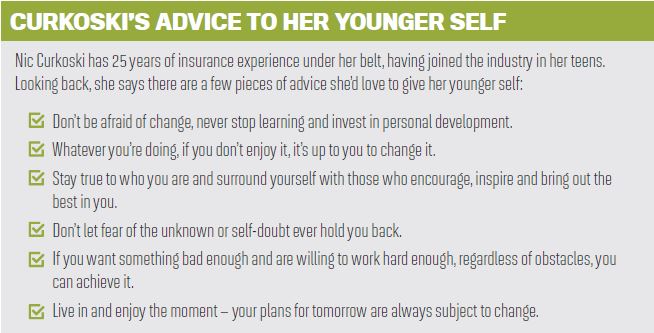 Having previously operated primarily in the earth-moving space, Curkoski knew she would have to widen her scope to make things work – so she took things back to basics.
"I jumped in the car and went into businesses down in the Illawarra," she says. "I introduced myself, told people I'd just set up my own branch in the region and asked if they wanted a review of their insurances. I can tell you, some people are really, really mean."
Luckily, Curkoski eventually had more to show for her efforts than just a thicker skin – she also began to build an incredibly diverse book of local clients.
"There's always something new, and every client brings something unique to your portfolio base"
"The first year was definitely tough – even when businesses are receptive, their insurances might not be due until months later – but I went into it with a three-year plan and stuck it out," Curkoski says. "Now, my portfolio is incredibly broadly spread – there's everything from investment homes to strata plans and earth-moving contractors to celebrity trainers."
While advising such a wide array of businesses does bring its own challenges, Curkoski says the core principles of insurance remain the same – so she's happy to have the diversity.
"There's always something new, and every client brings something unique to your portfolio base," she says. "But, while clients' industries vary, the basic principles of insurance are quite consistent across most sectors, and there are a number of schemes which assist us in ensuring the clients have access to industry-tailored products."

Another thing Curkoski says always remains the same, regardless of industry, is the importance of building strong and trusting relationships with clients.
"Insurance can be confusing and is often a grudge purchase, so I try to ensure that my clients understand their exposures, the benefits of the insurance and the possible pitfalls to enable them to make an educated decision as to what insurances they wish to secure," she says. "I am mindful that without my clients, Coastal Insurance Services would not exist."
That's why Curkoski insists on always keeping clients front and centre, whether they're a one-person operation or a multinational organisation.
"Over the years, I have seen first-hand that the smallest of clients can build into the largest of organisations," she says, "so, regardless of the size of the entity or their industry, I will always provide consistency as to the level of service."