From fires to floods | Insurance Business Australia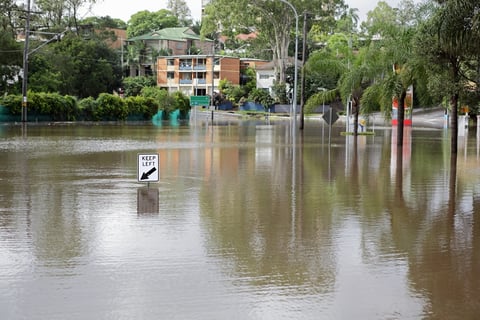 When it comes to natural disasters, the bushfires that raged across Australia's eastern seaboard for much of last summer have been discussed at great length, particularly now that the warmer months of the year are fast approaching once more.
The so-called Black Summer was the worst bushfire season on record and directly resulted in 33 fatalities and somewhere between 24m and 40m hectares of burnt land across Australia. According to health experts who fronted a royal commission this past May, almost 450 people also died as a result of smoke inhalation during this time.
For the insurance industry, the financial cost of the bushfires was immense. According to the independent catastrophe firm PERILS, the industry suffered peak losses of approximately $1.86bn each week, 70% of which were incurred in New South Wales.
Confronting climate change
According to Peter Cheesman, head of APAC analytics at Aon, the bushfires acted as a kind of wake-up call for any insurers that had ignored the severe effects that climate change can – and will – have.
"Insurers should already understand the implications of this recent fire activity on their portfolios and have some knowledge of what causes these conditions to occur and how exposed they are," Cheesman says. "Looking ahead over the short term, i.e. the next 10 years, property damage from bushfires is likely to continue to be driven by natural variability in the climate system. Insurers may look to better understand the impacts of these climate drivers on their portfolio. The now active La Niña phase of ENSO [El Niño-Southern Oscillation] in Australia is a good example."
Ben Crowther, head of strategic risk for NSW and Queensland at Marsh, echoes Cheesman's emphasis on the need for both insurers and their clients to understand changing weather patterns.
"Looking ahead over the next 10 years, property damage from wildfi res is likely to continue to be driven by natural variability in the climate system" Peter Cheesman, Aon

"Looking forward, communication and our reliance on technology to inform us and to keep us connected is pivotal," Crowther says. "The scale of the impact isolated so many communities, and that heightened the emotion and fear for everyone affected and of those who could not reach them. It also highlighted the need to know our capabilities and vulnerabilities well ahead of the event. While the scale could not have been predicted, it did shine a light on the importance of equipment and supplies so as not to be caught short."
Crowther adds that the royal commission showed that "many bushfire risk management plans were out of date" and highlighted that while companies need to have current response plans, "company personnel need to be familiar with the adopted strategies".
"Regarding business interruption coverage, there needs to be an understanding of revenue streams, understanding of how these revenue streams may be impacted directly and indirectly, and the need to explore how an insurance program can be aligned with these risks," he says.
A new threat
While the Black Summer taught insurance professionals some valuable lessons about the damage that bushfires can cause, a number of industry experts are now more focused on the potential fallout from other severe weather events such as cyclones and floods. The reason for this is simple: the active La Niña weather pattern.
La Niña is typically associated with higher rainfall and cooler daytime temperatures for much of Australia. The last La Niña event lasted from 2010 to 2012 and was one of the most signifi cant weather events in recorded Australian history, according to the Bureau of Meteorology (BOM), as the immense rainfall it brought helped to ease severe droughts in many parts of the country.
Though the BOM expects this current La Niña phase to be less extreme than its predecessor, it nevertheless holds the potential to bring about an increase in tropical cyclones, an earlier monsoon season and more intense flooding. As Insurance Business reported last year, modelling from the firm Climate Valuation found that these weather events are expected to become more and more severe due to climate change, and homes in flood-prone areas like Townsville in north Queensland could soon become uninsurable due to flooding risks.
According to Scott Leney, head of risk management for Asia-Pacific at Marsh, extreme weather events such as floods and bushfires – as well as their underlying causes – are increasingly a point of focus for the insurance industry.
"In this day and age, you can't help but be exposed to conversations about climate and associated changes in weather patterns," Leney says. "There's generally more pressure on companies to demonstrate that they're aware of the impact climate change can have on their business resilience. Though there's not much you can do to prevent extreme weather events like floods and hailstorms, there are plenty of measures businesses can take to reduce the damage they can cause."
"Though there's not much you can do to prevent extreme weather events like fl oods and hailstorms, there are plenty of measures businesses can take to reduce the damage they can cause" Scott Leney, Marsh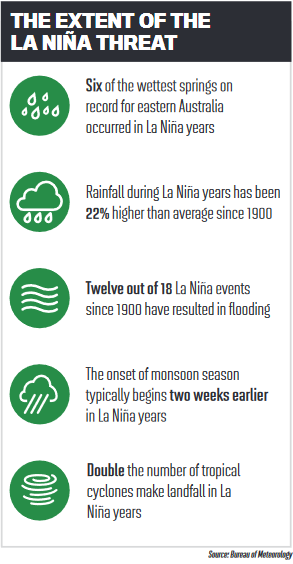 David Coe, managing director of Northwest Insurance in the Queensland town of Bundaberg, echoes that sentiment, describing cyclones and floods as events that clients can be prepared for, even if they can't necessarily avoid them.
"In 2011, we had the largest floods on record in our area, so it's a weather event that many of us are well acquainted with," Coe says. "There are expectations that there might be a couple of extra cyclones this year, and there's really nothing you can do about them – what matters is their severity and whether you have a few roof shingles taken off or have your house flattened.
"My advice to my clients is that as we move into this weather phase, they need to continue to be sure that they're insured against these kinds of natural disasters. Though COVID-19 has affected the bottom line of a lot of businesses, maintaining proper coverage in these areas is essential."
ANZIIF CEO Prue Willsford notes that the particularly devastating nature of last summer has prompted the insurance industry to engage in much-needed conversations about mitigation. Both she and Leney commended the Insurance Council of Australia (ICA) for its proactive approach to dealing with natural disasters and climate change.
"They've been increasingly active in terms of providing a coordinated response to natural disasters," Willsford says. "They collaborate with the industry, learn from past experiences and work to improve the overall landscape. Though providing insurance against these disasters can be di cult for the industry in terms of affordability, the ICA's done an incredible job in di cult circumstances."