The dirt on Yellow Cover | Insurance Business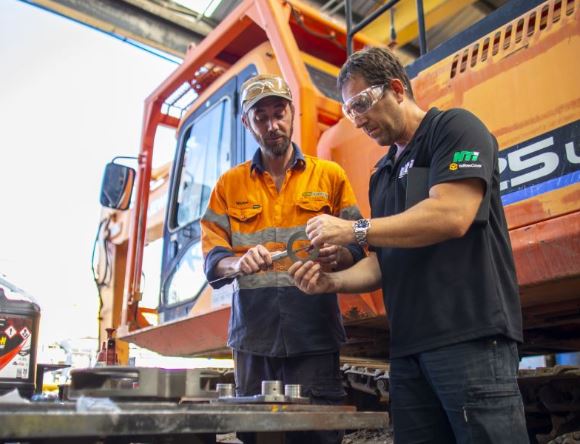 THOUGH SPECIALIST insurer NTI is best known for its transport insurance offerings, it has been writing mobile plant and equipment [MPE] insurance within its motor book for more than 40 years. Yellow Cover came to life under the NTI umbrella of brands in 2015, giving NTI's MPE and CPE customers a niche product that has been tailored specifically around the mobile plant industry.
"Technically, we're considered a new player," says David Kidd, national portfolio manager of mobile plant at NTI. "But we're drawing on a wealth of historic experience, and we've already established ourselves as a market leader."
Under Yellow Cover, Kidd explains, NTI offers a broad variety of insurance products for the mobile plant and equipment space, primarily in the civil, construction, agricultural and mining industries.
"We'll do just about everything from owner-operators and SMEs, up to the big corporate organisations," he says. "In terms of exposure, we handle anything up to about $500m. Beyond that point, we're still happy to help, too – but we'd probably be bringing in our reinsurers as well."
Kidd himself has been with Yellow Cover since the beginning and has extensive experience in the MPE space. As an industry veteran, he's keenly aware that it's a sector with great complexity, and he points out that determining the correct mode of insurance is often more nuanced than brokers realise.
"I always try to encourage people to try and look at things from an exposure standpoint," he says. "A construction business might have vehicles, but when you look at them more closely, you realise that their actual day-to-day business is earthworks, so you need to find the product that actually matches those needs, rather than simply looking at external appearances."
Accordingly, Yellow Cover aims to work with brokers and clients alike to create insurance products that address the client's particular needs. This is made easier by Yellow Cover's close alignment with NTI – the company's background with large-scale commercial and heavy motor insurance helps to create a more comprehensive product.
"We don't just cover mobile plants and equipment; we cover trucks, too," Kidd says. "Depending on the customer's individual needs, they can often have all of these assets covered under the one policy – it's a more tailored approach."
"Our whole process is built around getting repairs started and completed quickly for operators without them having to dig into their own pockets for reimbursement later" David Kidd, NTI
Constructing an effective claims process
Kidd is keenly aware of the important role brokers play in educating clients in the everevolving MPE space. He believes the level of service Yellow Cover provides is a key differentiator in the market, and he views it as a guarantee of the company's efficacy in paying claims. The insurance business is the business of paying claims, Kidd points out, and clients need to have the confidence that their insurer can deliver.
"I like to describe us as top-heavy from a claims perspective," he says. "We're an Australian-based service, so we can easily provide support over the phone if an accident occurs. Our staff can check in to make sure that the people affected are OK, not just the equipment."
Brokers have 24/7 access to Yellow Cover via Sunrise; according to Kidd, it was the first product of its kind to be available on the platform. Additionally, specialist underwriters in each region across Australia can provide support as necessary.
"At a base level, we have tools like our online platform for brokers working with SMEs," Kidd says. "That obviously makes it easier to get hold of a quote; you punch in the information, and you can get one instantaneously."
To help boost broker knowledge, NTI also holds monthly webinars across all of its products – Yellow Cover, Marine Protect and National Transport Insurance – in order to keep its partners up-to-date with the latest developments in the industry.
"Collectively, we're all in the transport arena, irrespective of which field we're working in specifically," Kidd says. "All of these areas are more intertwined than you might initially suspect, so it's always beneficial for brokers to learn about the different facets of the business."
NTI is also heavily involved with industry associations and events, working to make brokers aware of its services so they can relax when there is a claim.
"We also pride ourselves on speed of claims," Kidd says. "Our specialists make fast decisions, so if we're able to get all the necessary supporting documentation, we can have settlement times as short as five days. We take care of everything; our whole process is built around getting repairs started and completed quickly for operators without them having to dig into their own pockets for reimbursement later."
A key part of this is the company's use of trade-qualified mobile plant and heavy motor internal repair managers rather than external assessors, who often introduce delays and higher fees.
"We also have trading accounts with most P&E dealerships and manufacturers, which allow us to supply parts more efficiently to customers, even if they are doing their own repairs," Kidd says. "These agreements are unique to us, and all repairs authorised by NTI are covered by our Yellow Repair Promise."
"Clients seem to be keen to deal with brokers and insurers who are local ... They feel as though they're more likely to understand the challenges they're facing day to day" David Kidd, NTI

The local advantage
With 15 years of experience in the industry under his belt, Kidd is well aware that the mobile plant market is subject to shifts and changes, just like any other field. One particular trend he's seen over the last few years is the larger syndicates gaining significant growth, largely on the back of cheap pricing. However, he notes that this appears to be coming to an end.
"We've seen recently that a lot of the London-based syndicates are starting to pull out of the Australian market," he says. "We've seen similar trends in other areas of insurance, too too – big names set up shop and look very impressive initially."
Kidd believes the syndicates have simply realised that they've been pursuing unsustainable pricing models. Given the hardening currently occurring in the market, their large-scale approach is no longer a viable option. Still, Kidd is confident in the ability of local organisations to step in and take their place.
"Clients seem to be keen to deal with brokers and insurers who are local and on the ground," he says. "They feel as though they're more likely to understand the challenges they're facing day to day. That's something we feel we can offer with our products, and with the capabilities we offer to our brokers, we're quite confident in our position."