The green light for renewables | Insurance Business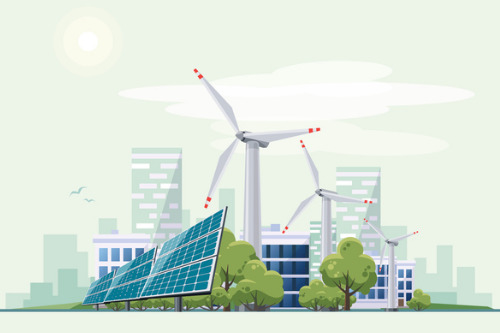 The Australian energy sector is, by many metrics, undergoing a massive shift. A record 26.5% of electricity in Queensland, NSW, ACT, Victoria, South Australia and Tasmania was generated through the use of renewables such as wind and solar power between September 2019 and September 2020, according to research from progres-sive think tank The Australia Institute. Meanwhile, the Clean Energy Regulator esti-mated that an unprecedented 7.0 gigawatts of new renewable capacity was installed last year as more and more Australian businesses and households opt for energy-capturing sources like rooftop solar panels.
Given Australia's status as a so-called sunburnt country, harnessing the abundance of natural energy it is exposed to will be essential in combating the effects of climate change. According to Lee Garvey, head of financial solutions for Australia and New Zealand at Willis Towers Watson, there have been "some very interesting positive developments" in the insurance industry's support of renewable energy projects across the Asia-Pacific region."
The insurance industry does look to respond positively to meet ESG [environmental, social and governance] criteria these days, and as part of that, many companies are looking to reduce their exposure to coal," Garvey says. "What this means is that they're increasing their knowledge around energy production forms such as wind and solar. The insurance market in Asia, for example, has been very active in looking at wind farms, and having spoken to insurers in the Australian market, renewables are definitely an area of focus and growth there, too."

With almost two decades of experience in the energy insurance sector under his belt, Ryan Mansom, head of Gallagher's national energy practice, sees renewable energy as a segment that is "definitely starting to take on here in Australia".
"Finding clean ways to produce energy is clearly a point of emphasis in the industry as technological advancements continue and allow this to become easier," Mansom says. "Decommissioning of oil and gas infrastructure is also something that is going to be a big thing moving forward, and I think there's likely to be a lot of activity in the merger and acquisitions space as well, with certain larger companies starting to see less value in older projects and developments and resultantly offloading them to smaller companies."
Cause for concern?
It's not all smooth sailing in the renewable energy insurance market, however. Costs associated with extreme weather events and natural disasters reached $35bn between 2010 and 2019, according to a February report from the Climate Council, which warned that this fi gure could reach an unthinkable $100bn per year by 2038 if action is not taken soon.
For John Rae, Willis Towers Watson's Australasian renewable energy leader, one of the biggest issues facing a widespread transition to renewable energy sources in Australia is this exposure to natural catastrophes. An area like northern Victoria, which Rae says is "home to signifi cant renewables infrastructure", has become one of the most bushfire-prone regions in the world, making certain risks nearly impossible to insure."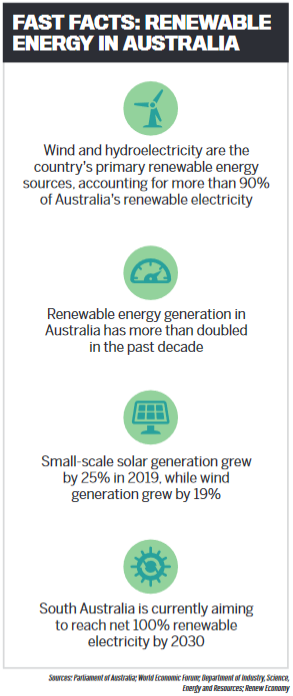 In Australia, we're incredibly exposed to a lot of natural catastrophes, including cyclones, hailstorms, floods, bushfires and more," he says. "Adding to that is the fact that many renewable projects are built in areas of high wind and with high amounts of sunshine, which can help maximise their yield but also brings added risk. All in all, developers need to be very aware of the risks associated with these weather events, since a natural catastrophe can cause a level of damage overnight that takes a long time to recover from."
Another impediment to wide-scale renewable energy adoption is intermittency, Rae says. "The vast majority of new renewable energy projects in Australia are wind or solar-powered and, as a result, don't tend to produce energy at a standard flat rate," he says. "Other countries like New Zealand use hydro sources, which can react quite quickly to changes in demand to produce large amounts of their electricity in a sustainable way. With solar and wind, there's some-what of a lack of reactiveness, and this, combined with energy network transmission issues in Australia, can lead to diculties in responding to the market's needs."
Though the occurrence of extreme weather events in Australia can't be eliminated, there are steps renewable energy producers can take to protect themselves against these and other risks. Liberty Speciality Markets, for example, recently released a new parametric insurance product called Weather Index, which helps protect businesses from variation in sunshine duration, wind speed and direction, and other unexpected weather conditions.
While this type of insurance has traditionally been purchased by agricultural enterprises, Liberty designed Weather Index with more diverse applications in mind, including renewable-energy-producing enterprises such as solar and wind farms, which are reliant on certain types of weather, says Ben Hissey, senior vice president for Asia-Pacific at Liberty.

COVID-19 has understandably domi-nated the conversation in insurance over the last year, but I think we shouldn't forget the impact that natural catastrophes can have," Hissey says. "Mitigating weather risks and accurately underwriting coverage considera-tions are going to be central challenges that the Australian insurance industry will need to manoeuvre through."
A sense of optimism
Despite the issues that face renewable energy, the sector has a bright future in Australia; Rae believes its growth is inevitable. "From a purely economic point of view, renewable energy sources are signifi cantly cheaper than other energy sources, making them hugely attractive for electricity gener-ation moving forward," he says, adding that there are also social expectations for compa-nies to adopt renewable energy sources and reduce their carbon footprints.
This is perhaps most apparent in the ongoing saga surrounding the controversial Adani Carmichael coal mine at this point, 32 insurers, including HDI, AXA XL and Liberty Mutual, have indicated that they will not provide coverage for the project, which is expected to add around 4.6bn tonnes of carbon pollution to the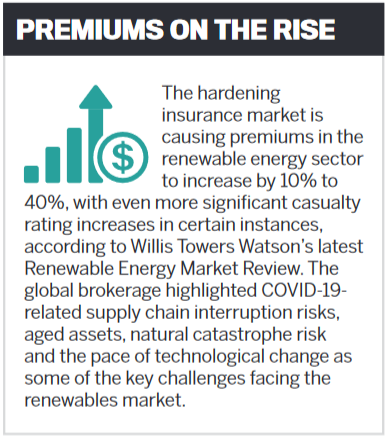 atmosphere over its lifetime.
In Rae's view, the fact that many leading insurers in Australia and beyond have significant experience in the renewable energy sector is cause for optimism."
We like to encourage the dialogue between these renewable project developers and their insurers so that both sides can make the best of the situation," he says. "If they're working together and combining the tools at their disposal to effectively mitigate any risks that present themselves, that's going to deliver the best result."
Ultimately, Rae believes working in a constantly evolving sector like renewables is an exciting and rewarding challenge.
"It's a real problem solving industry," he says, "and the people in it are so passionate about what they do that you can't help but be inspired by them."