Office Design and How It Can Improve Productivity | Insurance Business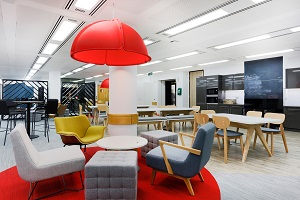 Current trends for office design feature aspects such as open plan working environments where the staff experience is valued highly. This reflects the fact that the ways in which we work, rest and play are becoming increasingly blurred. Companies who want to attract and retain the very best talent need to bear this in mind and design their workspaces accordingly. And it is that which we address here as we take a look at office design and how it can improve productivity.
Increase Productivity by 20%
Research conducted into the relationship between the workplace and productivity has revealed some interesting results. For example, the most important consideration when it comes to an individual's ability to focus is the environment that they are in.
Those who work in a staff friendly office are likely to be up to 20% more productive. So what are the most significant factors to consider when it comes to office design?
Tables and Chairs
The vast majority of work that takes place in today's offices is done on computers. It is therefore crucial that staff have suitable, ergonomic, tables and chairs that are at the right height and that promote good posture.
Other considerations include lumber supports, foot rests and risers for computer monitors.
Such is the importance of quality tables and chairs that it is not worth cutting corners and so some investment is required. There are some design features however that, with a little ingenuity, you can provide for very little in the way of cost.
Self-Build Office Design
Pick up some equipment from a company like RS and there are plenty of ways that you can enhance your office design and in turn increase productivity.
One idea is to build a simple raised pagoda, that is placed in the centre of the office. House all the work desks on the raised platform and then around the pagoda have more private work areas and relaxation spaces.
What this does is create a divide, a focused working space on the raised platform and then more communal spaces and places to have meetings around the circumference.
Well Lit Spaces
If you want your staff to shine, then make sure you get the office lighting right. In the first instance you want to let in as much natural light as possible – with blinds to help control glare.
A lack of natural light can cause stress and even depression, whilst an abundance has been linked to improved performance.
Supplement the natural light with a range of smart artificial lighting solutions that are controllable and energy efficient.
Stir the Senses
Neutral colours are a great starting point when it comes to décor, but a splash of colour here and there will help stir the senses – blue is commonly associated with high levels of productivity.
Also consider the temperature, 19 degrees Celsius, or thereabouts is likely to keep everybody comfortable and so is conducive to success.
Taking all of these factors into account should leave you with a great workspace and one that will promote happiness, wellbeing and increased productivity.