2015's natural disasters in review | Insurance Business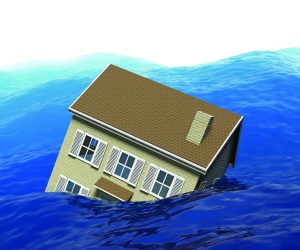 Natural disasters across Australia and the rest of the world grabbed headlines throughout 2015. With earthquakes in Nepal and Afghanistan taking thousands of lives, and storms and cyclones costing billions of dollars across Australia, it's hard to believe that 2015 was a down year for disaster damage.
Impact Forecasting, the catastrophe model development team at Aon Benfield, recently released their Annual Global Climate and Catastrophe Report, which showed that insured losses from natural disasters in 2015 were down 31% on historical averages, but this must not lead to complacency.
The number of disasters across the world rose as 300 separate events hit over the calendar year. A huge gap still remains between economic loss and insured loss, showing that the industry still has a long way to go when it comes to protecting the world from these nightmare scenarios.
61, 922
Total number of wildfires that burned in the United States in 2015
19,500
Approximate total number of fatalities across the globe from extreme weather events
US$123bn
Total economic losses caused by natural disasters globally
30%
Global losses from natural disasters were down 30% on the 15-year average of $175 billion
Total number of disasters hit five-year high
The total number of disasters across the globe hit 300 for the first time since 2010. Australia saw its fair share of natural disasters, as global numbers climbed from five-year lows in 2014
Losses continue to dip
Both insured losses and overall economic losses continue to trend downwards following extreme highs in 2011, but the gap between both figures remains a reminder of the value of insurance and the global opportunities that exist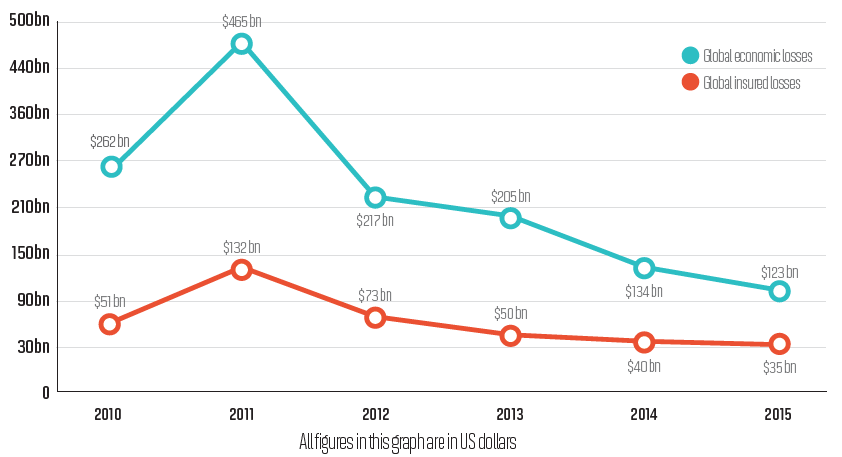 The year in disasters
While it may have been a down year for natural disasters in terms of economic losses overall, several disasters still tore through global communities, including some major events across the Asia-Pacific region.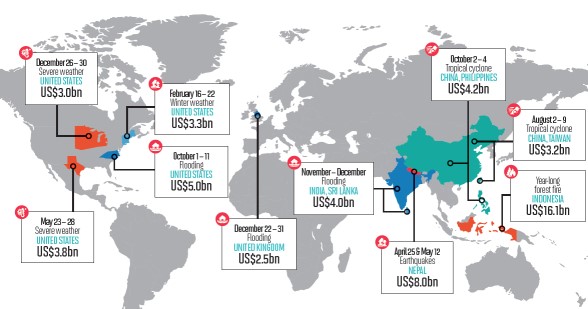 Source: Impact Forecasting 2015 Annual Global Climate and Catastrophe Report
More of the same ahead?
The turn of the year has already cost Australian insurers more than $500m. Could the start of 2016 continue to be as damaging to insurers as the beginning of 2015?

Source: Insurance Council of Australia
2015: a bad start to the year
Australia suffered a terrible start to the year as, over the first four months, disasters caused billions of dollars in economic losses