More mergers ahead? | Insurance Business Australia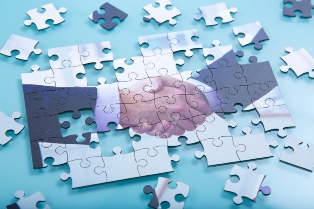 Mergers and acquisitions played a big part in the insurance industry in 2014. There were eight deals worth more than $1bn as sectors contracted across the industry. The final quarter of the year saw several key moves, and industry experts expect the pace of 2014 to flow through into 2015.
While much of the consolidation was focused on the reinsurance space, there was increased activity across the broker business and in general insurance. The
Deloitte
2015 M&A Outlook notes that 2015 should bring "continued acceleration of activity in the insurance M&A market".
Companies should be prepared for entreaties by private equity firms looking to invest in insurance, other new entrants to the market from both home and abroad, and a changing regulatory landscape that could affect M&A activity.
$11bn
PartnerRe and
AXIS Capital
amalgamate in a mammoth deal
$4.2bn
Irish-based XL Group acquires Catlin to create one of the largest players on the Lloyd's market
$1.9bn
ReinsuranceRe Holdings acquires Platinum Under writers in Nov 2014
$1.8bn
Fairfax Financial buys UK specialty insurer Brit in Feb 2015
Sources: Mondaq, Wall Street Journal, PartnerRe, Deloitte 2015 M&A Outlook
Reinsurance sees big M&A activity
Increased activity isn't limited to the broking sector – reinsurance is a burgeoning M&A market, and major industry players expect this to continue
"Global reinsurers have seen the future, and it requires greater scale … for reinsurers, the game seems likely to remain 'eat or get eaten' "
– Standard & Poor's RatingsDirect
"We believe that the consolidation of reinsurance and a diversification of these organisations into primary specialty insurance (with a particular emphasis on obtaining access to the Lloyd's market) may be a sea-changing event for the industry"
– Deloitte 2015 M&A Outlook
Brokerage buyouts an uneven trend
In terms of volume, the broking sector saw its second-highest number of deals (321) in 2014, but deals within the sector are difficult to predict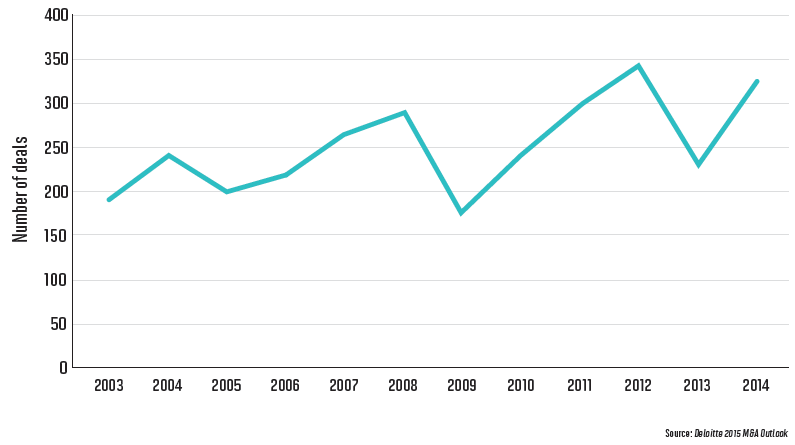 Top three dealmakers
With so much activity in the broking sector throughout the year, the top three saw major deals both at home and abroad
1. Arthur J
Gallagher
- 38 deals
2. HUB International - 28 deals
3. AssuredPartners - 23 deals
Broker networks continue to branch out
Australian broker networks are continuing their growth phase, with Singapore the next stop for many
$290m
Steadfast
announced their largest acquisition to date with the purchase of
QBE
's agency businesses in March
MACS
Australian insurance group Honan Insurance announced the acquisition of Singaporean broker MACS Insurance Brokers, which could signal the start of Australian expansion in Asia
60%
Austbrokers
announced the purchase of 60% of leading workplace rehabilitation firm Altius Group for $13.6m in January
AJG
Arthur J Gallagher made waves in the Australian market earlier this year with the acquisition of Instrat Insurance Brokers and Blue Holdings Group
Average brokerage deal value drops
Even as the number of deals in the broking sector moved up in 2014, the value of those deals took a drop, on average, compared with the previous 12 months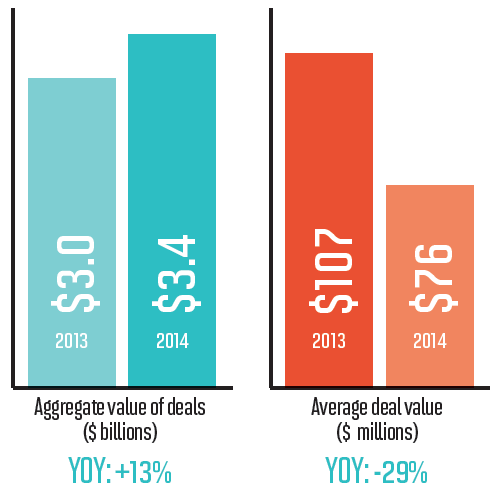 Source: Deloitte 2015 M&A Outlook