Apprentice baker to decision-maker | Insurance Business Australia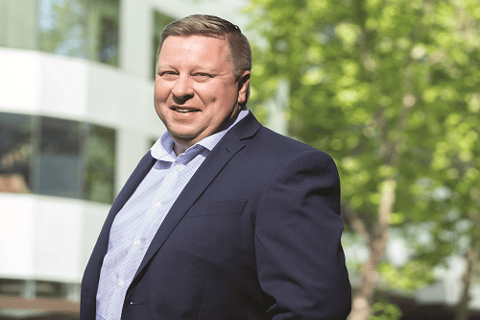 From humble beginnings as a baker, Tony Dodd has risen to become CEO of one of Australia's largest transport insurers. Now he's looking to leverage what he's learned along the way to take the company to new heights
Had life taken Tony Dodd in a different direction, today he might be spoken of in the same terms as Adriano Zumbo. Insurance was not his first calling – originally, he found himself working as an apprentice baker, standing before blazing hot ovens every morning.
"I enjoyed it," Dodd says, "but I think I realised pretty quickly that it wasn't for me long term."
Baking's loss has been insurance's gain. In October 2019, Dodd was appointed CEO of GT Insurance, the culmination of more than 25 years in the industry.
Dodd is cognisant of the importance his early roles in insurance played in bringing him to where he is today. Starting off in the mailroom at the now-defunct FAI, Dodd still speaks fondly of this formative experience – one that was more important to his current position than many might realise. In a preinternet era, the mailroom was a crucial part of the business, one that brought the company together in spite of its decentralised structure.
"Back then, each office around Australia had its own dedicated departments – HR, payroll, customer service and so on," Dodd says. "The mailroom connected them, and it gave me a greater understanding into how the different departments within the company interacted with each other."
Dodd eventually made the leap to the company's call centre at the same time the industry was making a push to improve client outcomes with a greater focus on customer service. As someone with contacts across the company through his previous role, Dodd was already ahead of the curve.
"I've never met a business owner who didn't want to be better at what they do," he says. "It's an attitude I've always tried to remember in the workplace, whether I'm dealing with clients or my team. Insurance is a gateway to facilitate that."
All about the customer
When Dodd joined GT Insurance in 2006, his first task was to get a new Brisbane office off the ground with good mate and fellow long-standing GT employee Chris Kindred. It was a success, and, together with a variety of other accomplishments over the years, helped GT Insurance grow into Australia's second largest insurer in the transport field.
It's something to be justifiably proud of, yet Dodd is modest about his own contributions. Success, he says, is the result of the great people who are the heart and soul of GT.
"A desire for a strong customer-focused culture was what initially attracted me to GT," he says. "Over the last few years, my role has been to drive and enhance the customer experience. We encourage, train and develop our teams to always look for ways to deliver superior customer service."
Every decision made within the business is assessed on whether it will positively or negatively impact the customer experience, Dodd explains. Additionally, there's an ongoing conversation about how this culture will evolve into the future.
"Everyone in our team is involved with dealing with customers at some level," he says. "Accordingly, all of them need to be involved in the customer experience process. We make sure everyone is aware of the business expectations on them."
This customer-centric approach has both external and internal applications. GT Insurance conducts all of its business via brokers, but its approach has gradually transformed into a three-way partnership. The days of simply delivering a contract are long gone, giving rise to greater collaboration.
"Brokers have an incredibly broad range of expertise and require knowledge across many industries," Dodd says. "By contrast, we focus on a specialist area – so collectively, we have an informative and positive role to play when it comes to working with clients."
When a claim arises, Dodd notes, it's GT's time to show empathy, objectivity, compassion and fairness. Both brokers and GT have a role to play in helping the client through the incident. Ideally, it doesn't stop there, either – good support upfront can prevent incidents from occurring in the first place.
While the emphasis is frequently on broker training, Dodd prefers to talk about knowledge sharing. After all, the more confidence the company can provide its brokers, the better the overall outcome for the client.
"Insurance is part of risk prevention, reduction and management," he says. "We work with brokers to provide advice around industry trends, best practice and other safety considerations. It's a consultative approach, and that's a culture we encourage internally as part of our service offering to our brokers."
Strategic investments
Of course, positive sentiment needs to be backed up with the right infrastructure. Looking to the future, Dodd is keenly aware of the importance of investing in both technology and people.
"We want to set the benchmark, and that means having the right assets in play," he says.
Over the last few years, this has meant investing heavily in a new IT infrastructure to better enable both internal and external services. But the human element hasn't been forgotten; Dodd is a strong advocate of flexible work practices, and the teams split across the company's two new offices in North Sydney and Parramatta can choose where they prefer to work.
Dodd freely admits that striking the right balance isn't always easy. But whatever changes might come – whether market-, technology- or people-driven – he believes the fundamental elements underpinning GT Insurance will remain in place.
"If I could boil down our culture to one word, it's 'fairness'," he says. "The business has been built on that as a mantra, and it's one of my proudest accomplishments to be able to promote that at a whole new level within the company and industry."