Leading the Gallagher way | Insurance Business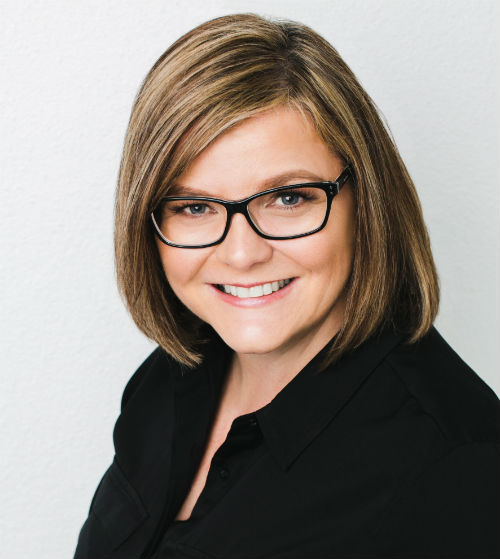 Gallagher chief executive Sarah Lyons talks about continuing to build the global brand in Australia and contemplates what the future holds for the industry
Sarah Lyons became chief executive of Gallagher's Australian operations last July.
"I'm delighted to be at the helm of a business that is changing the conversation in the market and with clients, and actively embracing change," Lyons says. "No two days are ever the same, and I'm appreciative of the wealth of support and capability that sits within the team. We're at an exciting time in our journey and are doing some great work with clients to take their business forward."
A second-generation insurance professional, Lyons followed her father into the industry, starting out in the claims department of an insurance company in North West England. While working as chief finance and central operations officer for UK Global Risk Solutions, Lyons was invited to relocate to Melbourne to head up commercial broking for OAMPS Insurance Brokers. It was a move that required upheaval to Australia, sight unseen.
"Looking back, it is one of the best decisions I have ever made," she says.
Lyons took up the role in February 2014; just months later, a $1.01bn deal saw Gallagher acquire Wesfarmers Insurance's broking arm, which encompassed OAMPS. As a result of that deal, Lyons joined Gallagher as chief operating officer.
"When I think back to where we were in 2014 versus where we are now, it's incredible to think how much we've grown and changed in a relatively short timescale," she says.
Changing but staying the same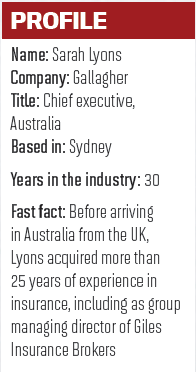 In 2010, Gallagher had 80 employees in its local business unit. Today, it employs more than 900 people in Australia, placing $1bn in gross written premium. Part of that growth has been due to its ongoing activity in the M&A space.
"The Gallagher culture has a family feel to it," Lyons says. "It's inclusive and welcoming, and whilst we work hard, we also take time to connect and have fun along the way. This extends to the acquisition partners we bring into the business. I think it's important that people connect the 'Why Gallagher?' question with a confidence that they've made the right choice and are becoming part of a bigger family. It's one of the things we take pride in getting right."
While the organisation has grown substantially, what's remained the same throughout Lyons' time at Gallagher is its culture. That includes adherence to the global 'Gallagher Way' approach to hiring, which ensures that those who come on board are the right fit for the company.
"Becoming Australia's largest and most admired insurance broker is a long-term aspiration … When we achieve our aspiration, I want it to be because we have achieved success and recognition on our own terms"
"We have a strong entrepreneurial, 'go-getter' style culture here at Gallagher, which speaks to the way the organisation has grown over the years," Lyons says. "Although our current headcount sits at around 25,000 colleagues globally, we haven't lost sight of the family culture that makes us what we are today. Culturally, I think that sets a positive tone for the way we work together and do business, where we celebrate diversity and people can be themselves."
As a leader, Lyons has accumulated plenty of salient lessons about managing people and getting the best from employees.
"I'm a great believer that as you develop as a leader, it's important not to lose sight of yourself in the process and be something you're not," she says. "Being authentic can be confronting at times, but the payoff is the trust and commitment that grows within your team."
She also firmly believes in making time for fun in the workplace.
"As a fast-paced organisation, it's important to strike the right balance and provide the right platform for the team to grow their relationships and connection with each other. Whilst we're professional on the job, it's a highly social and relationship-led culture, which makes Gallagher a terrific place to work. We have a mix of things going on in any one month, from morning teas through to informal team lunches and people catching up on the news over breakfast. The genuine desire to connect is one of the things I like most about working here."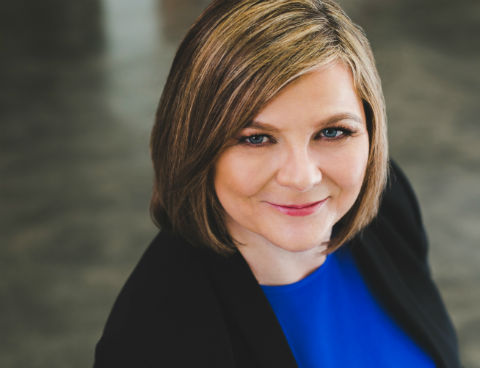 Strategic thinking
When she became chief executive, Lyons affirmed her commitment to Gallagher's ongoing ambition to become Australia's largest and most admired broker.
"Becoming Australia's largest and most admired insurance broker is a long-term aspiration and not about a race to the finish line," she says. "Our focus remains on delivering a high-quality experience to clients, backed by a team that is recognised as being the best in market. When we achieve our aspiration, I want it to be because we have achieved success and recognition on our own terms."
Gallagher also remains focused on building its reputation as a specialist broker.
"We have a number of specialist capability areas that we will continue to invest in and grow, and we are constantly exploring new opportunities," Lyons says. "With transport & logistics and construction, for example, we have more than three decades of experience to bring to the conversation and a team who have grown with the industry. That's a significant value-add for clients, and also for us."

Talk turns to the current state of the market, which is starting to see the upward movement of rates after an extended soft market.
"There has been a lot of talk in the market and within the broking community of a hardening marketing cycle," Lyons says. "Whilst there is some truth to that statement, I think we need to remind ourselves of the big picture. We appreciate that there have been some changes in pricing and underwriter risk appetite in some lines of insurance and risk exposures, but this is not happening across the board. Insurers have backed out of some markets, and at the same time, we have seen increased capacity in others.
"The extended soft market may have created a sense of security for some brokers," she adds, "but the current market cycle is where the value of a good broker really comes to the fore. In that respect, I think Gallagher is well positioned to respond."

Like many other industries, insurance is facing pressure from the ever-increasing pace of change. While the industry has been widely regarded as late to the party in embracing new technologies, Lyons thinks insurance is beginning to grapple with what can potentially be accomplished.
"Insurtech investment has grown exponentially in recent years, and I believe Australia sat at a higher rate of adoption than the global average," she says. "That speaks volumes about the critical role technology and data will play in the insurance purchase process and in things such as predictive risk modelling in the years to come.
"Telematics, robotics, wearable technologies and artificial intelligence are being more frequently discussed in the boardroom, which is challenging executive teams to get up to speed with where the industry is heading, and the conversation has shifted from this being the domain of the IT team to being owned by everyone around the table."
Technology also creates opportunities for brokers, Lyons points out.
"Technology and 21st-century service delivery work hand-in-hand in a business like Gallagher, and there is so much we can do now to streamline the manual tasks such as data processing, which would have historically absorbed a significant amount of time that could have been used to grow our relationships with clients. But we are also being careful not to jump onto the latest gadgets and gizmos, more to properly assess what makes a difference and creates value first, and then understand where technology can respond to that need."
Advances in technology bring their own risks, and there is no emerging risk more talked about today than cyber.
"From our daily conversations with clients, it's concerning how many businesses continue to operate without cyber coverage and the number of corporate organisations that are lacking a sufficient data breach plan following the 22 February mandatory reporting requirements," Lyons says. "What's more is that cyber affects businesses right across the board, all shapes and sizes. People need to be aware of their exposures."
Of course, cyber also represents enormous opportunity for brokers and insurers.
"What has been good to see is the investment made by a number of insurers to ensure brokers remain up to speed with evolving cyber exposures," Lyons says. "With the pervasive nature of technology, cyber risk exposure is at risk of moving faster and becoming more complex than underwriters and policy wording specialists can respond to."
Looking to the future
Lyons sees a bright future ahead for broking – one where risk advisers will remain indispensable in the insurance value chain.
"The emergence of digital and the ability to manipulate vast pools of data is playing a role in transforming the traditional model of purchasing insurance, and it has carried with it a level of disruption for the broking industry," she says. "That said, whilst some SME clients are generally looking for speed and convenience, there is a still a critical and relevant role for brokers to play, especially where an 'off the shelf ' solution will not provide tailored cover to fit a specific need. Ultimately, a low price does not always translate into comprehensive cover.
"The extended soft market may have created a sense of security for some brokers, but the current market cycle is where the value of a good broker really comes to the fore. In that respect, I think Gallagher is well positioned to respond"
"Increasing access to data is also transforming client conversations, and brokers are creating value in new and innovative ways. Part of our role as a service industry is to move with the times and provide the flexibility for clients to connect with us when they want, in their preferred style of engagement."
Not only is Lyons optimistic about insurance's future, but she also is passionate about what it has to offer those who opt for a career in the industry.
"I've not come across many people who actually set out to carve a career in the insurance industry," she says. "But I do work with a lot of people who are passionate about being part of something that powers progress. The industry could do much more to engage with millennials and the next wave of school leavers and university graduates. We need to do more to get the message out there about the breadth and scale of opportunity that exists in the industry and how insurance is critical to our future growth and success.
"It's an industry ripe for innovation and fresh thinking, and the pace of change is gathering momentum. There is a lot of untapped potential, and the best may be yet to be seen."