Meet GB's new deputy CEO | Insurance Business Australia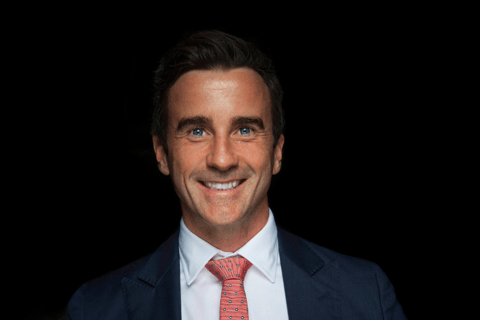 This article was produced in partnership with Gallagher Bassett Services Australia.
Gallagher Bassett Australia deputy CEO Peter Nicholson (pictured) talks to IB about immediate goals, what he relishes about his new role, and the importance of personal brand.
From the moment Peter Nicholson first arrived at Gallagher Bassett, he knew he was in the right place.
"I was struck by the personability of the leaders and how this flowed naturally through the organisational layers," he said. "In short, it's a diverse and inclusive family and it immediately felt like home."
That was four years ago, and he's since quickly progressed through the executive ranks of the third-party claims administrator - from CFO Australia, to CFO International and now to the newly created position of deputy CEO. The role has been introduced to support the Australian business through its planned growth and expansion over the coming years. Reporting to GB's Australian CEO, John McNamara, Nicholson will be jointly responsible for visibly driving the culture and strategy, to enabling other executive team members and leaders, to spending time with the company's people, partners and customers.
"What excites me most is hearing about our customers' and partners' often complex challenges and working with our brilliant GB team members to help solve them," he said.
For Nicholson, it's the highlight to date of a rich and varied career.
"I am grateful for this opportunity to use the breadth of my skill set to help lead GB Australia on its next chapter," he said. "To be able to work closely with John McNamara on all the key strategic and cultural imperatives is a real pleasure."
Nicholson described his successful path inside GB as "the culmination of hard work and help from many people over many years."
"My parents in Tasmania gave me a strong work ethic and taught me the importance of maximising any opportunity," he said.
After leaving Tasmania in 2000, he spent 11 years at KPMG, predominantly in transaction services. Roles with KPMG took him from Melbourne to Zurich, where he had "a wonderful seven years learning about working with different cultures and servicing clients across Europe and several other continents."
Nicholson's first CFO role came in 2012 as a result of an acquisition he helped a former Swiss client with, in Brisbane. On arriving at GB five years later, he was able to bring his mergers and acquisitions experience to the fore, while overseeing financial compliance and helping guide the business in ways that maximised the return to all stakeholders.
Nicholson's strong work ethic will be put to good use as he helps steer the company through the war for talent, and increasing claims volumes. However, he says GB is best positioned to help insurers through these challenges and many more, including the ongoing impacts of COVID-19, thanks to its "highly skilled employee base, our agile working arrangements and finely tuned rapid response recruiting and capability building methodologies – ensuring we will be able to provide the right teams and skills to respond to our changing client and partner needs."
GB also has a proven track record in responding to change, he added, pointing to the company's award-winning responses to claims impacts arising from COVID-19.
As for sustainable growth over the next 12 months, Nicholson sees opportunities coming from a range of areas. First, expansion of service in their existing customer base, "in recognition of the outcomes we get for them". Secondly, in the insurance carrier market through helping additional insurers find solutions to their pain points. Thirdly, GB has developed a comprehensive M&A plan which it will be executing throughout 2022 and beyond.
His goals for the next 12 months?
"To enable our people to deliver our organic and inorganic growth targets and deliver for our owners; to provide opportunities for our people to develop and learn; to champion our diverse and inclusive culture that sees us retain and develop all our key people; and to ensure our organisational environment allows us to continue to deliver demonstrably superior outcomes for our partners and clients," he said.
It's been said that for executives, personal executive brand is as important as the quality of their work. Nicholson couldn't agree more.
"It's critical for ensuring that organisational goals and culture are aligned," he said. "My personal brand is that I am an energetic and authentic leader who will guide the business in a consistent, engaging and transparent fashion. I am lucky that this marries nicely with the organisational culture at GB."