Playing the long game | Insurance Business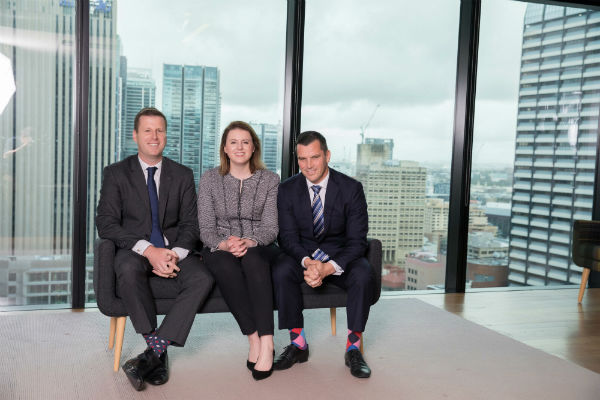 Three senior Australian leaders of Berkshire Hathaway Specialty Insurance talk about the first two years of building a 'forever' business
Susan Donaldson, Matthew Clarke and Craig Taylor are all insurance industry veterans. Each of these senior insurance professionals are founding members of Berkshire Hathaway Specialty Insurance's (BHSI's) Australian leadership team who, two years ago, began building the local arm of the iconic insurance group's burgeoning property, casualty and specialty lines insurer.
Launched in Boston in 2013, BHSI continues to grow beyond expectations and today has a presence in Asia, Canada, Germany, New Zealand, the UK and the US. At the end of 2016, the business had 800 teammates across the world, 25% more than it did in 2015. In April 2015, BHSI opened for business in Sydney. Two years down the track, Insurance Business sits down with Donaldson, Clarke and Taylor to discuss that time, as well as what's to come.
Asked why he joined BHSI at the time of its Australian launch, Taylor discusses the appeal of having the opportunity to build the local business from scratch.
"It's not often that you get to do that with such a powerful balance sheet behind you and such a powerful brand," he says.
Clarke describes being part of the BHSI start-up in Australia as "a once-in-a-lifetime opportunity".
"Being able to get in early and help shape the culture of the business and the team of the future was a big attraction for me," he says. Donaldson, Clarke and Taylor all speak of the local team assembled and the culture established in the highest of terms.
"This is a great place to work," Donaldson says. "It's vivacious, it's engaging, it's collaborative. It's a place where a strong collaborative culture is a priority – and it enables us to do great things for our customers."
In Australia and New Zealand, BHSI now has 80 team members.
"As of next month there will be 19 on our property team. Two years ago we were walking into our former premises and I was number three walking in the door … that's phenomenal growth," Taylor says.
But he also mentions the challenge of recruiting right.
"We focus intensely on hiring people with both the right capabilities and character. We want to make sure that we're the right place for prospective team members and that the team members are the right people for BHSI," he says.

PROFILES
Name:
Matthew Clarke
Company:
BHSI
Title:
Head of executive and professional lines
Number of years in insurance:
21
Fast fact:
Clarke is the former professional indemnity and cyber manager for
AIG
across Asia-Pacific
Name:
Susan Donaldson
Company:
BHSI
Title:
Head of claims
Number of years in insurance:
14
Fast fact:
Donaldson was previously national financial lines claims manager at
Zurich
Name:
Craig Taylor
Company:
BHSI
Title:
Head of property
Number of years in insurance:
25
Fast fact:
Taylor is the former Australasian property manager of HDI-Gerling (now HDI Global)
Standing out
Clarke says the team and organisational structure distinguishes BHSI from its competitors in the marketplace.
"We've got a very flat structure. Decision-makers are sitting at the coalface every day, so brokers and customers are talking to decision-makers every day," he says. "Access is much more streamlined than it is in other organisations."
Clarke also cites the company's flexibility and responsiveness as key distinguishing attributes.
"There's not a risk that we can't look at," he says. "We're driven to come up with insurance solutions and we can't hide behind treaty reinsurance. Everyone who sits out on the floor here is empowered to make decisions for the business. That really sets us apart from our competitors."
In the '10 Ways to Get Rich' list published on his website, Warren Buffett, CEO and president of Berkshire Hathaway Incorporated, encourages business leaders to be willing to be different and eschew the temptation to base their decisions on what everyone else is saying or doing. Taylor describes BHSI itself as a 'different' organisation.
"This place isn't normal and we're very proud of that," he says.
"We make a concerted effort to make sure that people get a sense of what we're about and what our culture is about, no matter if it's a customer or broker or somebody looking to become part of our team … The process that somebody goes through when they're on-boarding into our world is different from what they'll experience with another organisation. The way we engage with customers and brokers is different again and won't be pegged to behaviours of others."
Part of the company's culture, Donaldson says, is its thinking around the way its team should invest its time.
"We invest in really getting to know our customers and broker partners," she explains. "Some of the best interactions I have are simply sitting with a customer or a prospective customer and really talking about their risk, their policy wording, and how it would respond in certain situations. We really invest our time in getting to know our customer – and having the customer get to know us. So when they place a policy with BHSI, they really trust the coverage we are providing – and trust the partnership we'll have at the time of claim. We have really solid, long-term focused relationships."
In it for the long haul
A crucial aspect of the company's global strategy is to create a 'forever' business in each market it enters. So, what do its Australian leaders consider essential in working to achieve that objective?
"First and foremost, making sure that we take a long-term view in all the decisions that we make," Clarke says. "We talk a lot about patience. We look at the relationships that we're building. Whether that's with brokers or customers, we're always looking for cultural alignment and taking that long-term view. We're not driven by top-line growth. We're looking to develop the relationships that we believe are good for our customers and, over time, will be profitable for the business."
Taylor notes that BHSI's development in Australia has starkly contrasted with initial industry expectations.
"People thought that we were going to go gangbusters – but we've been anything but that," he says. "We've been very selective in the way we've gone about our business. There's no pressure to scoop up and write everything that comes across our desk. Sometimes it's going to take two or three years to get to know a customer and for a customer to get to know us and for us to transact business. And we're okay with that."
Clarke talks about BHSI's formation of relationships with Australian brokers over its first two years.
"The message that we first came out with – emphasising flexibility, responsiveness, sustainability, consistency of pricing … has become increasingly appealing to brokers. Today, as we start to see the market harden slightly, our message, and our advantages, will continue to resonate more and more with brokers," Clarke says.
Taylor has been surprised by how strong a reaction the business has received from brokers.
"The way that the broker market has embraced us and accepted the way we're doing business in Australia has been fantastic," he says. When it comes to taking on new risks, Donaldson emphasises that the business can look at anything.
"We have the strong balance sheet, but also the strong encouragement and strong cultural philosophy that says if there is a risk out there, if our customers are concerned about something, we want to sit around a table with them and talk about that risk," she says.
Clarke thinks that message has already been embraced by several brokers and customers.
"We have certainly been challenged with some interesting risks, and provided products that aren't necessarily widespread out there today," he says. "In some cases we've worked with customers and brokers for 12 months to develop a solution. We certainly welcome the opportunity to do these sorts of deals."
Clarke says that while BHSI sees opportunities in cyber, there's also substantial risk to be considered.
"As a market, cyber presents a lot of issues. Potential accumulation is one that insurers struggle with every day. We keep tight control on that, while balancing it with the need to put forward a meaningful product that customers value," he says.
BHSI devotes substantial efforts to the incident response aspect of its cyber solution.
"We partner with Symantec in that space. We get great information on threats and exposures from them and they provide a great service to our customers who need to respond to and manage a cyber incident."
Clarke says the insurer will enter any line of business where it sees a long-term opportunity – and when it finds the right people to bring on board.
"That's fundamental to our growth – meeting the right people and getting the right people in charge of that business," he says.
Donaldson adds: "BHSI was given the task globally of setting the gold standard in a general insurance company and taking as long as we needed to do that. That gives us a pipeline of endless possibilities in this space. We can look at anything and everything that makes sense for our business long term.
"It's incredibly exciting to be able to say our doors are open to consider any opportunity. We're not everything to everyone, but we'll consider literally any opportunity."