The heart of innovation | Insurance Business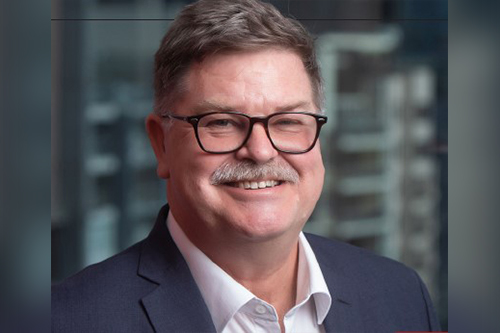 Industry veteran John McNamara, chief executive officer of Gallagher Bassett Australia, shares why innovation must be driven by a supportive and engaging workplace culture
In his two years at the mast of Gallagher Bassett Australia, John McNamara has worked hard to establish a culture of innovation, introduce a new claims system, expand the business and pioneer new solutions for an ever-shifting insurance marketplace.
As with many others who work in insurance, McNamara ended up in the industry by accident. In the late 1980s, he was working in customer service across a variety of industries when he came across a job posting that would change the course of his future career.
"I responded to an opportunity to join a claims agent," he says. "That role was a team leader in a workers' compensation team – so that's how I got started in the insurance industry, way back when."
Since then, McNamara has been a frontline observer to the many changes that have taken place in insurance. The way service is delivered has been one of the primary shifts during this time, due in no small part to the increased influence of technology in the workplace.
"The service that was being delivered by the industry then versus now is like chalk and cheese," McNamara says. "Back then it was all about responding in a reasonable timeframe via letter and answering the phone if it rang, rather than proactively engaging."
A variety of roles followed over the next few decades, and McNamara eventually found himself at Gallagher Bassett in 2004. With his extensive experience delivering service in a highly technical, transactional environment – developed further during his time leading the company's workers' compensation team – McNamara was ideally placed to step into the CEO job in 2016.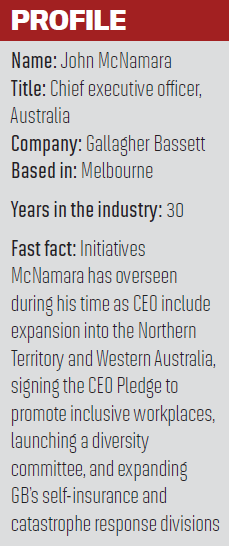 Innovation requires action
'Innovation' is an oft-abused word in the insurance industry, but since taking on the role of CEO, McNamara has seen it as integral to Gallagher Bassett's ethos, both now and into the future. Innovation often comes from within, he notes. Handing power back to employees gives them a greater sense of purpose about their role and enables them to have a more effective stake in the way the company is run.
"Young up-and-comers in the insurance industry are used to hearing things like 'you are our future'," McNamara says. "I've tried to make my message 'you are our present – your time is now'. Young people are typically the forefront of the service delivery process, solving problems for customers in the here and now. That's why a lot of our best ideas come from our people on the ground – they are the heart of innovation for Gallagher Bassett."
To better facilitate this process, McNamara and his team established an innovation framework, which has provided staff with the opportunity to think and operate outside of their normal day-to-day roles.
"Encouraging staff to have an impact on the business is the logical thing to do," McNamara says. "But to do that, you have to make the opportunities for innovation obvious. You have to make it easy for people to contribute, and you have to make it rewarding."
McNamara's people-centric style of management is also evident in the company's approach to diversity and inclusion, where staff-driven initiatives are often pushed to the forefront. He actively strives to make the industry an environment where people from all walks of life are encouraged to join, with the understanding that diversity can enhance Gallagher Bassett's ability to respond to its customers' needs.
"We deal with people who have suffered a loss one way or another," McNamara says. "Having staff on the phone who can empathise with that individual's situation and deliver service in a way that is consistent with that individual's needs requires a very diverse group of people, all of whom need our support and encouragement."

The Gallagher Way
These initiatives – and indeed, the company's entire approach – can be traced back to the vision known as 'the Gallagher Way', written by Robert E Gallagher back in 1984. Serving as the philosophical foundation of the organisation, McNamara describes it as an intentional attempt to make a positive impact in the surrounding communities and in wider society.
He points to Gallagher Bassett's recent Northern Territory expansion as a great example of the Gallagher Way in action. Led by two long-standing GB staff members who transferred from Sydney and Adelaide, GB's NT launch provided an opportunity for them to take on greater responsibility while also taking a significant step forward in their careers. They quickly recruited a team of 25 people who were mostly new to insurance, and the entire GB organisation rallied behind them to ensure services were ready to go from day one.
The new office also required the creation of a new online claims platform, the Return to Work LaunchPad, in less than six weeks. Yet this hard work paid off – within 12 months, the team were recipients of ANZIIF's Innovation of the Year Award in recognition of the online LaunchPad. They've also been recognised for becoming valued members of the NT community, thanks to their charitable partnerships with NT Police Fire Emergency Services, Territory Families and the Alabut Families Indigenous Co.
Another big advancement that's been rolled out over the last 18 months has been GB's proprietary claims system, Luminos, which McNamara calls "a real game-changer for us ... Through sophisticated automations, it removes lot of the mundane transactional work from claims management, enabling our staff to focus on customer service and supporting clients to manage complex claims."
McNamara still looks to the Gallagher Way to chart a course for the future, including this year's expansion into Western Australia. It also guides the positive impact the company can have beyond the office.
"It all really starts in the workplace," McNamara says. "We want to offer a supportive and team-oriented culture in which employees can thrive. I know that if we take care of our people, they will take care of our clients and our communities."