How can a brokerage devise an effective digital strategy? | Insurance Business Australia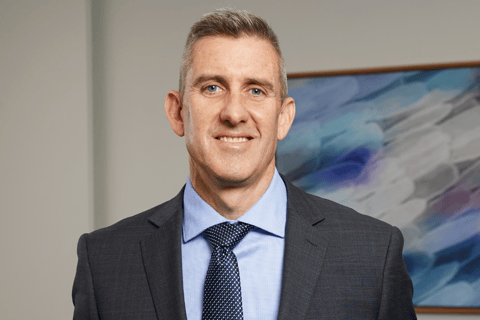 The COVID-19 pandemic has accelerated the shift to digital as insurance industry stakeholders conduct more of their business online. Brokers are in the middle of this revolution.
But how does a brokerage devise an effective digital strategy?
At November's 2021 Insurance Business Australia Awards, FD Beck Insurance Brokers won the Best Digital Strategy prize in the brokerage category. The Melbourne based firm impressed the judges with a digital strategy woven around short videos, education and automation.
Watch now: FD Insurance Brokers on its approach to digital strategy
"It's two-fold our strategy. It's educational but then we also drive traffic to our online quoting portal facility," said director Simon Pascoe (pictured).
FD Beck's goal is to guide customers thorough education to purchase the most appropriate cover for their needs. In conjunction with the videos, they created 22 blogs answering common client questions.
The videos – on YouTube and on their website – are all under a minute long.
"Increasingly, consumers want to be able to educate themselves with simple, easy to understand information in a format that requires little effort," said Pascoe in their entry submission.
Read next: Insurance Business Awards: Meet Taylor Burstow, winner of two Young Gun prizes
"We also understand that some customers prefer to engage with videos rather than with static text, so creating more interactive and visual content is essential to our strategy."
Pascoe said all the videos are based around frequently asked questions around professional indemnity and public liability.
"I wrote the scripts and went in and produced the videos and we got Sally Williams who used to do the Brand Power ads to present them," he said.
The focus on education and automation is part of a digital strategy designed to drive traffic to FD Beck's website quote portals.
The brokerage has developed an online quote portal that allows clients to obtain an instant quote for seven different insurance products. The offering spans hundreds of occupations and allows clients to deal with their insurance needs outside standard business hours.
"It's almost ready to switch over to actually bind online and issue documents. But at the moment you can get a range of different quotes on our website," said Pascoe.
Pascoe, together with co-director and brother, Matthew, have weekly meetings with a technology firm to ensure their digital strategy stays on track.
It's clear their digital efforts have paid off. Business is good.
"The biggest challenge is managing growth I think, and servicing that with the right staff," he noted. "Staff recruitment would be our biggest challenge."
Many colleagues across the insurance industry would agree. In Australia and globally, the insurance industry's skills shortage is becoming more acute, particularly in the IT area.
Read more: What's the top insurance industry recruitment problem?
One interesting feature of FD Beck's Digital Strategy award is that their win proves that old companies can very successfully update their systems.
The history of the brokerage dates back to 1898 when J T D Beck founded a real estate business which included an agency for insurance. In 1981, Ray Pascoe, father of Simon and Mathew, became a co-owner and in the 1990s took over the company. By 2010, both sons had followed him into the business.
"It's a very, very old business," said Pascoe.
"I worked on the underwriting side of insurance up until 2008 when my father was looking to sell the brokerage. I'd had enough of underwriting and wanted to come across and so my brother and I purchased the business."
The Pascoes have also proven that brothers can work together.
"It's worked very well," he said. "I think we have different strengths that complement each other."
Pascoe realized that his brokerage had a good chance in the Digital Strategy section of the awards when he saw that the selection criteria emphasized using a digital strategy to educate customers.
"When I was looking at the judging criteria, I felt that that's what they were really looking for. Not so much sales but how you are using digital strategy to help educate customers and clients," said Pascoe.
"I felt really confident when I was filling out the application form but as we got closer to the awards date for some reason I kept feeling less and less confident!"
The self-doubt proved mistaken when the Pascoes gathered with their staff in the boardroom to watch the awards.