Is this Marsh broker a Rising Star for 2022? | Insurance Business Australia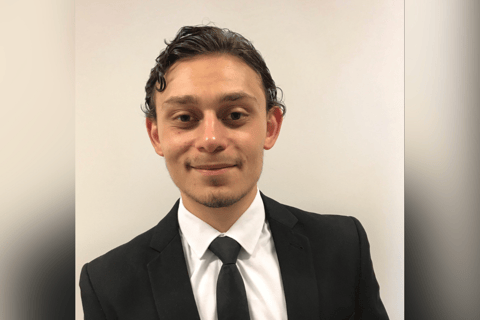 Every year, Insurance Business shines a light on emerging young talent across the industry through Rising Star awards. Ali Taleb (pictured), account executive for Marsh, could be a Rising Star in the making.
Taleb reached out to IB after hearing IB Talk's podcast with 2021 Rising Star winner Yasmin Carter-Esdale. The confident youngster said he's aiming to be one of the youngest senior account executives at Marsh Australia and ultimately, the CEO. Another, more modest goal: to be named a Rising Star for 2022.
After only 10 months with the global brokerage's Automotive Affinity team Taleb could be well on the way to realizing his ambitions. Taleb manages six clients with responsibilities including project management, data analysis, risk management advisory work and client placement.
Not bad for a 23-year-old?
Read more: 'Rising star' Yasmin Carter-Esdale offers tips on attracting young and diverse people into insurance
Taleb freely admits he's "not one to hide my aspirations." However, Taleb said his undeniable confidence is mixed with humility.
"There's a fine line between confidence and arrogance," he said.
"I might have been more on the arrogant side in my late teenage years. However, I was a teenager! I'm very happy to say that I've managed to rectify that," said Taleb.
On his LinkedIn page he also describes himself as an optimist, author and speaker. Taleb has even written a self-published book - A Step Forward - that encapsulates his personal ethos:
"The purpose of the book is to inspire, empower, and encourage a generation to dream more, to do more and to believe in more," he said.
Taleb said the IB podcast helped him understand the value of young professionals in the insurance industry and their important role in its future.
"I am driven to not only be a leader in the industry but to also advocate for young professionals," he said.
Taleb said he is "passionate" about business development.
"It may not be something that others expect of me just 10 months into my role at Marsh, however, it's something that I will be forming a plan around in 2022 to help grow my team's client portfolio," he said.
The 23-year-old is obviously not fazed by being one of the youngest employees at Marsh Australia. Taleb said he appreciates the learning possibilities that come from working with older professionals.
"Growing up in my late teenage years, most of my interactions were with people of maturity, young professionals, people of about 30 or so years of age," he said.
Taleb said several of his closest friends are above 30 years old.
"I'm really motivated to understand people and build relationships and listen from people who've been around the block a few more times than I have," he said. "But I definitely crack the old people jokes here and there for sure!" he added cheekily.
The personable Taleb appears to confidently bridge the age gap. He also appreciates the old and the new in other ways.
"Data, technology and the new ways of doing business are incredible," he said. "We want to keep moving forward and be as efficient as possible as a business," he added.
However, he understands the importance of in-person relationships.
"So the handshake, face to face meeting and the building of a real genuine relationship between clients, insurers and your colleagues is something I highly value," he said.
The Marsh account executive has some other inherent positives. The insurance industry is sometimes criticised for a lack of ethnic diversity in its workforce. Taleb's ancestry couldn't be more diverse.
"Mum's Italian. Mum and her family are originally from Calabria, where I definitely hope to go one day," he said. He's also planning a visit to the Middle East: Taleb's father is Lebanese.
That family background sounds like good book material. However, Taleb's book focuses closer to his Australian home and is something of a spiritual self-help guide.
The tagline for A Step Forward is "Stories that inspire action, empower our young minds and reveal the superpower within each one of us."
Taleb describes the book as a collection of "lessons and learnings" acquired from his own experiences and from others.
Listen next: How to attract young and diverse people to the insurance industry
"The goal is to have one story, one sentence, or one line make a positive impact on the reader," he said.
Taleb said he wrote the book because he's driven by purpose and determined to leave a legacy "in all that I do."
"Ultimately, I want to inspire a generation," he said. "I felt that if I put something in a book it could go further than I myself physically and personally ever could."
A Step Forward has reached readers all over Australia and, said Taleb, as far away as the United States.
"The fact that a really genuine piece of me is in the hands and in the homes of people, my friends and colleagues around Australia is incredibly humbling," he said.
It's also in his old school library: Thornbury High School in Melbourne.
"If I happen to walk out of the office here on Collins Street and get hit by a bike or by a car, A Step Forward is still going to be here and outlast me. It will be here forever which is a pretty cool thing," he said.