Former NSW Police deputy commissioner joins fight against cybercrime | Insurance Business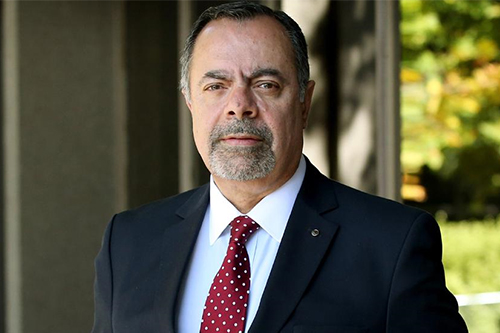 One of Australia's most distinguished police officers and counter-terrorism experts, former NSW deputy commissioner Nick Kaldas (pictured), now managing director of Secured Communications, has switched his attention to protecting business and government against cybercrime.
Kaldas, who has also worked with the United Nations (UN) to investigate the use of chemical weapons in Syria, will be teaming with former senior FBI, law enforcement and technology leaders to fight against the uptick in cyberattacks.
"The thing that attracted me to Secured Communications is that their motto is 'public safety first' – there's a lot of ex-police and ex-FBI involved in the company and that appealed to me because they won't do anything against their cause," Kaldas explained. "They're very community minded."
Read more: Cyber firms pitch services to government policymakers at an online event
After a 40-year career spent leading teams in Iraq, Syria, Lebanon, Jordan, Gaza and Australia, he says the threat posed on business sensitive data is "massive" and has had major implications on how organisations insure against cyberattacks.
"The threat to business operations from lax cyber security is expanding at an unprecedented rate, increasing risks with the potential to drive up insurance premiums," Kaldas said. "Leading global reinsurer Swiss Re has identified three insurance macro trends in 2020 that underscore the challenge insurers face managing cyber risk – these are a massive expansion of digital and cyber risk, protecting data as an asset and disruptive digital technologies.
"The shift to work-from-home in the corporate world during the COVID-19 pandemic has underscored more than ever the need for secure, reliable communication."
It's an issue Kaldas is personally invested in after working in the insurance industry during the 1970s before joining the police force. Because of his understanding of the sensitive information that insurers manage on behalf of their clients, he believes insurers "would be silly to bury [their] head in the sand and not realise how big a problem" it poses for them.
"You're dealing with clients' very sensitive financial information, you're dealing with people's health records perhaps and you're dealing with people's financial assets information, credit cards, insurance policies – all of those things are very attractive to hackers and people who want to do phishing and scams to rip people off," he explained.
"It's important that all of that information that insurance companies have is conveyed and discussed in a secure way, knowing and having full confidence that nobody can tap into it or access it."
In his view, cyber security has eroded since the coronavirus pandemic struck simply because more people are working from home and completing tasks online rather than in the office.
"Then there is the collaboration aspect, even the meetings within workplaces, most of them now, in my view, are held remotely and using technology rather than people getting together in a room," he added.
This sentiment is also supported by leading global insurer, Zurich, which warned last month that "as hundreds of millions found themselves working from home, in the unprecedented circumstances prompted by the COVID-19 crisis, cyber security measures have been stretched to the limit and criminals have spied opportunities."
With this in mind, Secured Communications officially launched its Mercury communications platform last month; an enterprise-grade video conference product that encrypts communications on a private cloud platform, protecting businesses and government against cyber disruptions and hacks.
Read next: Marsh secures new head of cyber, international
"I have been in places like Syria – dealing with chemical weapons – in Iraq helping rebuild its police force and in Lebanon investigating the assassination of Prime Minister Rafiq Hariri," Kaldas said. "Terrorist and other organised crime groups are very innovative and show great initiative when it comes to doing evil. You have to conclude that these groups will attempt to disrupt governments and businesses and hack sensitive data through vulnerable communications channels.
"With Mercury, we have created a highly secure solution for the corporate world, based on the technology behind our product that is already trusted for secure communications by law enforcement and counter-terrorism professionals to protect and streamline their most sensitive and urgent communications."
Kaldas explained that Mercury does not require desktop application software and allows users to host video conference meetings via a web browser or mobile device without disruptions or leaks of sensitive information, which means significantly greater user privacy and security for file sharing and meetings, where sensitive information is being shared.
"Not only is Mercury highly secure, it is also simple and easy to use," Kaldas continued. "Mercury offers similar features to other applications, but none can match it for its security through end-to-end encryption and enterprise level of support from the company."