Lismore aims to "build back better" after devastating floods | Insurance Business Australia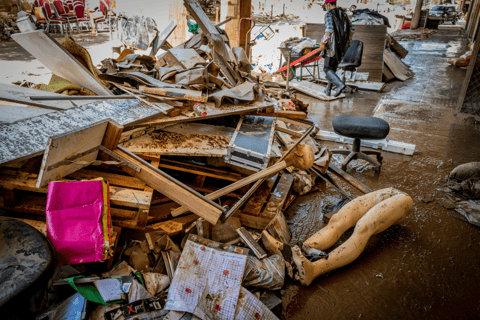 The Lismore City Council has released a discussion paper presenting recommendations to help Lismore, New South Wales (NSW) "build back better" following the catastrophic flooding in February and March 2022.
As of April 22, the ICA reported that insurers received 180,245 claims related to the catastrophic flooding in southeast Queensland and NSW, with the estimated current cost of insurance claims now at $2.523 billion.
The Queensland and NSW governments have introduced ways to help flood-affected residents, with the former launching a flood recovery package and the latter establishing the Northern Rivers Reconstruction Corporation (NRRC).
As Lismore in NSW continues to recover from the devastating storm and flooding, the city council presented some recommendations to identify a strategic direction for growth and rebuilding, and to ensure suitable land supply is available for new and existing businesses in the long term. The recommendations include:
A planned retreat of the highest flood risk areas of North and South Lismore. The council will advocate for a state- and federal government-funded land swap arrangement to allow residents to move to higher ground but remain close to existing social networks and jobs;
Protecting the CBD and land on the eastern side of the Wilsons River through flood mitigation measures;
Investigations into expanding the industrial precinct at Goonellabah;
Preliminary design and feasibility work to establish whether a new commercial or mixed-use precinct could be located on the golf course land at East Lismore;
New medium density zoning and increased height controls for strategically located flood-free sites;
Ensuring affordable housing is included as part of Lismore's growth by introducing an Affordable Housing Contributions Scheme (AHCS) for all land identified for future residential rezoning or a change in LEP controls to allow for greater density. An AHCS is a mechanism in the Environmental Planning and Assessment Act that allows the council to collect developer contributions to provide new affordable housing; and
Reviewing the Infrastructure Delivery program to identify how the city can fast-track infrastructure to new land releases outside of flood-affected areas.
Read more: PERILS releases initial insurance losses for Queensland and NSW flooding
The Lismore Growth Management Strategy 2015-2035 (GMS) is a key strategic planning document that identifies land for future residential, commercial, and industrial use. It was due to be reviewed in 2022 and incorporated into the Local Strategic Planning Statement (LSPS), also known as "Inspire Lismore 2040", a new document required under the Environmental Planning and Assessment Act and adopted by Council in 2020. However, the catastrophic flooding compelled the Lismore City Council to rethink the ways to rebuild the city located at the convergence of two rivers.
The Lismore City Council seeks feedback on its recommendations until June 10, 2022. It will also host two public forums to help the community learn more about the review.