Major insurers reaffirm support for flood-affected customers in NSW | Insurance Business Australia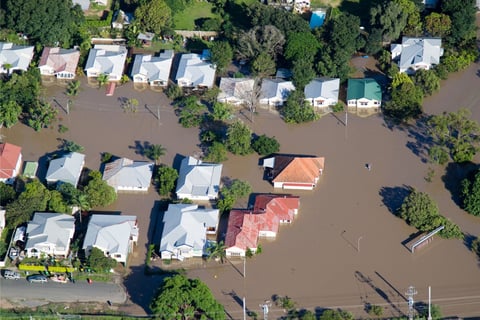 Some parts of New South Wales (NSW) are inundated once again, just months after suffering through Australia's third-costliest natural disaster. As a result, HCF Australia (HCF), RT health (which merged with HCF in 2021), and Insurance Australia Group have reaffirmed their support for flood-impacted customers.
HCF CEO Sheena Jack has offered assurances that HCF, Australia's largest not-for-profit health fund, is committed to supporting its members with uncommon care.
"We were there for you during the floods in Northern New South Wales in March, and we want our members to know we're still here for you now," Jack said. "It's heartbreaking to see the thousands of people, including our members, staff, and their communities, being evacuated and impacted by these extreme weather events."
She added that HCF's branches near flood-affected areas in Campbelltown, Liverpool, and Penrith remain operational. However, HCF members in those areas "might be facing extremely difficult circumstances right now" due to the flooding. Therefore, she advised members facing flood-related hardship to contact HCF to discuss how it can assist them – from premium waivers to temporary suspension of health insurance cover.
Read more: Government declares floods a natural disaster
IAG, which backs NRMA Insurance (NRMA) and CGU, said it had received 1,233 claims across its brands from the extreme weather event in NSW as of midday of July 5 – with most claims received by NRMA for storm damage to properties.
As the insurance giant waits for more claims over the coming days, it has advised flood-impacted members to lodge their claims as quickly as possible to access immediate help.
"This is an incredibly difficult and stressful time, particularly for people who have suffered multiple storms and floods in just the past few months, and our teams are standing by to provide immediate help," said IAG managing director and CEO Nick Hawkins.
"With our Major Event Response Team in place all year round, we're well prepared to respond to multiple severe weather events, and our teams are assessing damage to properties wherever possible, conducting Make Safe repairs, and will be on the ground in the flood-impacted areas as soon as waters recede," he continued. "We're also sending text messages to customers in the impacted areas with a link to quickly and easily lodge and track their claim online."
The Insurance Council of Australia (ICA) has declared the recent NSW flooding a "significant event," activating preliminary catastrophe processes to help the representative body and insurers assess the event's insurance impact.