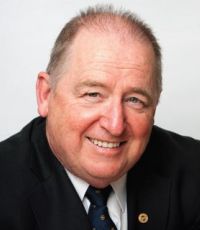 Keith Roderick
As Keith Roderick approaches his 50th year in the insurance industry, he stands at the helm of one of the largest regional brokerages in Victoria, with two offices and 30 staff members. And yet, the industry veteran still maintains his own portfolio, which includes a large and diverse client book.
"I am very proud of my business; I've built it up from a two-man show back in 1986, to now be employing 30 staff including my wife and two children," he explains. "It is great to be recognised in this way, when the industry has so many excellent brokers, and I think that anything that promotes broking as a career is a step in the right direction for the industry. This is a really good initiative."
His business, Roderick Insurance Brokers, which received the Geelong Business Excellence Award last year for Best Family Business, was rated number three in the top 10 brokerages for 2012.
SUCCESS DRIVER: STRONG CLIENT FOCUS
"I'm coming up to 50 years in the insurance industry and I still feel passionate about getting my clients the right cover and looking after them when something goes wrong. It's a great industry to work in; as I tell our young trainees, this industry offers variety and constant challenges and most importantly, we get to make a difference in our clients' lives."
Company

Information
Roderick Insurance Brokers