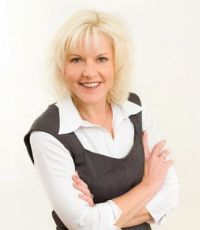 Sharon Fox-Slater
Managing an office of 45 people, Sharon Fox-Slater opened EBM Insurance Broker's first east coast office in 1997 and has been with the company for 20 years. During that time she has become the first female to complete the Advanced Diploma of Financial Services with National Insurance Brokers Association (NIBA) and the first female fellow, two achievements that Fox-Slater doesn't take lightly.
"Some of my proudest moments have been breaking new ground for women in what is still a male-dominated industry," she says.
And now, placing in the 23rd position of Insurance Business magazine's Elite Brokers ranking is another attainment for Fox- Slater to be proud of.
"There are thousands of exceptional brokers around Australia – both colleagues and competitors – so making the Elite Brokers list in any position is an honour," she says. It's a well-deserved recognition for Fox-Slater, who oversees a low premium, high volume portfolio – landlord insurance – that presents plenty of unique challenges as a broker.
"Property investors really need to take the time to fully compare what various policies offer, which is where brokers can play a big role. A lot of people spend more time choosing a flat screen TV than researching their options with insurance," she says.
Landlord insurance is the largest division of EBM, with 110,000 clients and a network of around 4,500 real estate agents nationally, and Fox-Slater only sees opportunities for further growth ahead. "It has consistently grown over the past 20 years and this is a direct result of the outstanding service and the skills and expertise that myself and my staff possess," Fox-Slater says.
SUCCESS DRIVER: BROKER EXPERTISE
"Landlord policies are not all alike and don't cover all the same things, and as brokers we have an opportunity to educate. There are some sub-standard products on the market, and it's actually not just the coverage that counts – it's also the service you get if you need to make a claim. We regularly receive testimonials and compliments from our clients about our exceptional service."