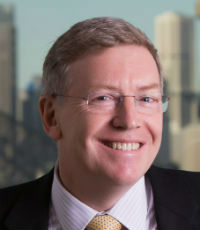 Mark Searles, Managing director and CEO, AUB Group
Managing director and CEO
AUB GROUP
Mark Searles has led the top 250 ASX-listed AUB Group since 2013. His decades of experience in senior insurance roles include time as chief commercial officer at CGU and chief marketing officer of Zurich Financial Services in the UK.
Releasing its FY17 results last August, AUB Group announced a 7.5% increase in adjusted net profi t after tax, with all operating areas of the business seeing growth. At the time, Searles said that, despite a fl at market, "organic growth was the key driver of business performance", and that "importantly, growth was not a result of premium increases".
Searles is focusing on leading AUB Group to become the top provider of risk management and advice. The group continues to grow across Australia and New Zealand, with its latest acquisition (of New Zealand broking fi rm Lowe Schollum & Jones) announced in December.
At the Group's AGM in November, the subject of the pace of innovation and technological change was addressed. Searles told the room : "We fi rmly believe that by embracing new technologies and approaches we can support our partners and clients by reducing the friction involved in the risk management and insurance process."
Company

Information
AUB Group

Level 10, 88 Phillip Street, Sydney, NSW, 2000