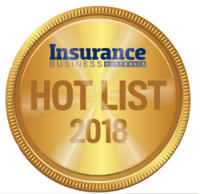 Richard Enthoven, CEO, The Hollard Insurance Company
CEO
THE HOLLARD INSURANCE COMPANY
The Hollard Insurance Company made insurance headlines several times in 2017. In August, Hollard announced it would acquire Calibre Insurance from Munich Holdings of Australasia. At the time, Richard Enthoven described the transaction as supporting Hollard's "strategic aim of building a meaningful presence in the SME insurance market" and complementing its "growing commercial portfolio in Australia and New Zealand".
Last year also saw Hollard acquire the portfolio of Progressive Direct Insurance Company, the Australian subsidiary of American giant The Progressive Corporation. And on top of that, consumer brand Kogan.com signed an agreement with Hollard for an initial period of three years, to offer home, contents, landlord, car and travel insurance under the Kogan Insurance brand, with the products to be underwritten by Hollard.
Not only is Enthoven Hollard's chief, but he was also recently appointed president of the Insurance Council of Australia and chairman of its board. ICA CEO Rob Whelan described Enthoven at the time as a "highly respected business leader", adding that "his perspective on how the insurance industry should respond to the challenges posed by the rapidly changing social, economic and political landscape" would be "invaluable".