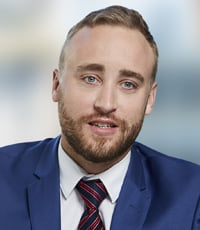 Reece Corbett-Wilkins, Clyde & Co
Senior associate
Reece Corbett-Wilkins is a well-respected industry professional with the skills, experience, and knowledge to help clients deal with cyber crisis.
Corbett-Wilkins is a senior associate in Clyde & Co's cyber insurance team, in charge of co-leading a team of six associates, six graduates, and one incident response manager. He also acts for insurers and their insureds in managing a raft of cyber incident and technology-related disputes and advises on pre-incident data-privacy work.
Over the past two years alone, Corbett-Wilkins has assisted in more than 300 matters, acting for SME, large-scale, and government clients in various types of matters. He also had a hand in developing a 20-hour cyber academy for new starters, which is being rolled out to his cyber claims team clients.
Corbett-Wilkins not only provides outstanding service on complex cyber matters, he is also very much a calming influence over what is usually a very stressful time for clients. He even advocates privacy and cyber security, delivering education to the insurance industry on cyber risk through the numerous articles he contributes with the wider Clyde & Co team.