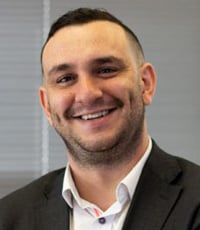 Sam Ratcliff, Insurx
Head of Insurx
Sam Ratcliff is a high-performing insurance professional whose goal is to automate and speed up the claims process and with a passion for helping the youth have better lives.
As head of Insurx, the TPA division of Claim Central Consolidated, Ratcliff manages 70 claims consultants in a wide variety of claims – from personal accident to residential home. His notable achievements include bringing 15 new clients to the team; launching Insurx in New Zealand; and building Insurx to $10 million dollars revenue.
Ratcliff is passionate about youth development. He has recruited more than 50 people under the age of 24 with little previous experience to the team, providing these youth with a career path. His advocacy can also be seen in his active support of The Reach Foundation. Ratcliff has also participated in the St Vincent De Paul CEO Sleepout in 2019 raising $17,000 to combat homelessness in Australia.