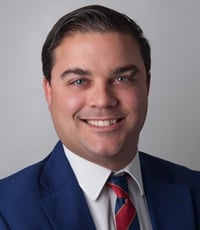 Scott Newland, Gallagher Bassett Australia
General manager of government and long-tail claims
Scott Newland is Gallagher Bassett's youngest general manager who has demonstrated commercial roundedness across many facets of the business, natural analytical and critical thinking capabilities, and the ability to tackle challenges of increased sales and performance targets, operational restructures, team development, and accountability in a proactive and mature manner.
In his current role, Newland oversees the management of a core complement of 160 claims staff, who manage a diverse range of complex general insurance portfolios within state and federal government clients. He also oversees all operational functions including recruitment, onboarding, training, development and refinement of client policy, and claims performance.
Newland has been able to deliver specific and measurable improvements across the various clients and portfolios which he is accountable for. Recent achievements include the personal contribution in excess of $2 million towards new business targets; team growth with low rates of employee-initiated turnover and high levels of staff engagement; and the use of his approach and framework as basis for GB's national operational approach to a remote Work from Home solution, in response to the COVID-19 pandemic.