How female role models can make the glass ceiling disappear | Insurance Business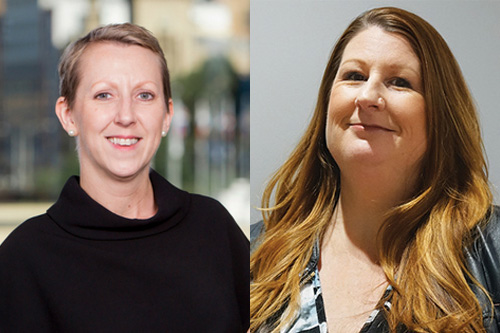 International Women's Day 2019 is two days away, and the theme this year is #BalanceforBetter – a call to build a more diverse and balanced world within every corner of our working environment.
The International Women's Day 2019 campaign highlights balance as not just a women's issue, but a business issue that's vital for allowing economies and communities to thrive. The insurance sector has taken a leading charge on issues of diversity across the globe, supporting events such as Dive In, which recognises and promotes the value of different backgrounds, perspectives and talents within insurance.
This week, Insurance Business spoke to two leaders at Arthur J. Gallagher – Victoria area director Emma Keegan, and manager for business improvement delivery Celia McCormack. They shared their experiences of rising through the ranks of insurance, and highlighted the importance of gender diversity and strong, visible role models that younger generations can learn from.
"Workplace gender diversity really enables us to create more opportunities, and it has enabled us to think differently and be more creative and innovative," McCormack said.
"It helps us to better understand and get the most out of each other, and it's great that we're starting the conversation and really bringing more focus to this area.
"I've had and still have many strong female role models around me," she continued. "When I first started in the workforce about 20 years ago, I remember looking at senior roles and thinking, "there's really a glass ceiling there." I was lucky to very quickly start working with a female general manager and a female operations manager, and for me, that glass ceiling shattered overnight. The world became my oyster. It was all up to me to say I could reach for the sky, and it was all about me being able to do that."
"I think that young women need to know that you can have it all, and it doesn't necessarily have to come at a cost of giving anything up or missing out on anything," Keegan added.
"I think Gallagher as a business has a lot of strong female leaders, and it's important for young females to know that they don't need to be one of the boys in order to be successful.
The most important thing that I've learned is you have to retain your own identity and beliefs, and not lose what's important to you along the way. As soon as you try to become someone you're not, you lose the thing that people value the most, and that's the authenticity piece. That works with clients as well as staff, team members, peers, and everyone else."
Keegan said that before joining Gallagher, her role models within business were all male. But she says that despite the lack of people like her at the top, observing the initiative, drive and determination of leadership behaviour helped inform her own approach to her work, and the mentoring she received in the early stages of her career laid the foundations for her own success.
"There was one man in particular who I worked with in Perth; I started out as his assistant," Keegan said.
"No one had ever challenged him about wanting to do more, to get out there to see clients and meet insurers. So when I asked if I could participate, the answer was "of course." And then it just became the natural course that you'd be invited to meetings, and he'd expect that you would participate."
"He taught me a lot about the value of people and friendships, and I see a lot of him in me today," she stated. "Sarah Lyons was also a big inspiration for me, and a big part of the reason I came to Gallagher in the first place. I always thought that as a leader, I showed a lot of empathy and compassion towards people, but for me, Sarah takes that to a whole new level, and I feel that I've grown significantly in this space since working for Gallagher."
Keegan says that when it comes to ensuring diversity, organisations such as Gallagher have a vital role to play – but this isn't just an issue of gender, and nor does it have to utilise 'hard' methods such as quotas. She says the vital part is simply challenging organisations to think differently, and to recognise that diversity brings real and tangible business benefits.
"It's really about diversity continuing to be on the agenda for all organizations," Keegan explained.
"I don't look at that as just male and female; I look at it in terms of disabilities, race, and ethnicity. There's a lot of talk about quotas, but I don't think it necessarily needs to take that form. It should just be companies being mindful that diversity has proven that it delivers better gross when you're challenging each other to think differently. It's about the recruitment process and having no gender or remuneration bias.
I think Gallagher as an organization has been lucky enough to achieve a really good balance naturally, as have some other organizations, but I think some of that is because we have a long-standing commitment to making sure that all roles are on a level playing field. I also think female professionals have to recognize that we all play a significant role in supporting our younger counterparts, encouraging participation, development and growth and ensuring that they go on to be the best that they can be in whatever role they choose."
"Having those role models really reinforces that we can, and we do," McCormack concluded. "I think that's so important for us to be able to share that vision with people across the industries in all different areas and different roles, whether it's broking, insurance or financial support. Being able to have visible leaders in all of those areas is really crucial."