Another catastrophic summer? What brokers can do to prepare customers for floods and fires | Insurance Business Canada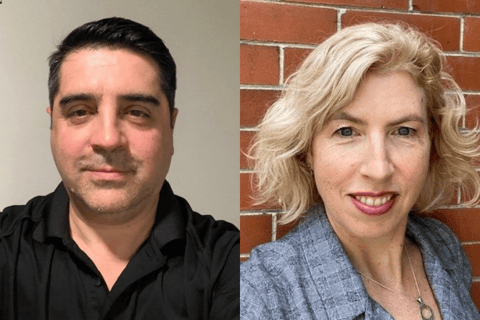 This article was produced in partnership with Intact Insurance
Bethan Moorcraft of Insurance Business sat down with John Billis, Director, Commercial Lines, Underwriting & Loss Prevention, Intact Insurance, and Cheryl Evans, Director of Flood and Wildlife Resilience, Intact Centre for Climate Adaptation, to discuss how brokers can help clients avoid the worst-case scenarios from floods and fires.
From more frequent and severe floods and fires to coastal erosion and changing ecosystems, the devastating effects of climate change on society and the Canadian economy are far-reaching.
Severe weather caused $2.1 billion in insured damage in 2021, according to the Insurance Bureau of Canada, making it the sixth highest loss year on record. Two events resulted in almost half of insured damages: the November flooding in British Columbia (approx. $515 million insured damage) and the Calgary hailstorm in July (approx. $500 million insured damage). The remaining losses included the tragic Lytton, B.C. wildfire (approx. $102 million insured damage), the widespread wildfires across the country, and the Barrie, Ontario tornadoes (approx. $100 million insured damage).
"Extreme weather events are not going away; they're only increasing in frequency and intensity," said Cheryl Evans (pictured, right), director of Flood and Wildlife Resilience, Intact Centre for Climate Adaptation. Evans agrees with the IBC's prediction that annual insured losses of $2 billion from severe weather events could be the "new normal" in Canada. Among contributing factors is the ongoing development of homes and infrastructure in high-hazard areas, which puts more assets at risk.
Canada's federal government's National Adaptation Strategy, now in development, is meant to mitigate some of these risks by providing essential tools and knowledge to reduce the impacts of future climate-related disasters in Canada. It will include climate-readiness measures such as preventing the construction of homes on floodplains, increasing tree coverage in urban areas to reduce the effects of heatwaves, and using data to map and manage the risks of wildfires.
"There is so much being done already," Evans told Insurance Business. "The challenge is that all of this is very slow. We have developed legislation, by-laws, policies, and strategies over the last 150-years, and those are slow to shift and change.
"In the meantime, there are opportunities for individuals and business owners to mitigate some of their own risks."
Brokers: At frontline of mitigation
Insurance brokers play a key role in informing Canadians of the risks they face and how to best mitigate, manage, and transfer those risks.
"People don't always understand their risks related to flood and fire, or what their insurance policies cover. That's where brokers have to start," said Evans. "It's really important to have conversations with customers to help them both to understand the risk, and to know the preventative actions they can take and the insurance discounts and municipal subsidies that are available."
Flood: Plugging a problem
Flooding continues to be one of the most challenging risks for property owners (home or business) in Canada, and yet there is also a significant flood insurance protection gap and lack of knowledge around the products in the marketplace.
"Flood insurance may not be affordable or even available for certain customers if their property is at a high risk of flooding, and many customers are unaware of this," said John Billis (pictured left), Director, Commercial Lines, Underwriting & Loss Prevention, Intact Insurance. "That's why brokers bring a lot of value. They can explain these complexities, they can advise customers of their risks and exposures, and really ensure that the customer understands what they are buying, what is protected, and what is not."
For homeowners, mitigation starts with education. The Intact Centre on Climate Adaptation, headquartered at the University of Waterloo, has produced a variety of free, basic resources to help insurance brokers raise awareness about flood. One of the Centre's key resources is Understanding Water Damage Insurance Coverages, which helps people understand the flooding vulnerabilities and potential mitigation actions particular to their home.
"It's really important for people to understand the different ways that water can get into a property, what their vulnerabilities are at their property, and the specific things they can do to reduce their risk," said Evans.
When talking to commercial customers about flooding, brokers need to help businesses apply risk management best practices, such as creating a risk-aware culture and taking time to identify the risks inherent to their operations from a water damage and flood perspective.
"Businesses should consider relocating critical equipment and processes that are below ground level, they should use racking storage to raise products above ground level and pay particular attention to equipment and inventory highly sensitive to water damage," Billis said.
Fire: Dousing the exposure
Mitigating fire risk at home again revolves around "general education," according to Evans, and helping homeowners to understand their risks, as well as their responsibilities and opportunities for reducing these risks. One good starting point for brokers and customers is the free and simple Three Steps to Cost-Effective Wildfire Home Protection guide from FireSmart Canada, a program of the Canadian Interagency Forest Fire Centre. The guide runs through simple things that homeowners can do to make their homes and properties more ignition resistant.
For businesses, Billis encourages brokers to work with property owners and risk managers to conduct a hazard analysis and apply the hierarchy of controls method, from the most effective controls down to the least effective, but complementary, mitigating measures.
"Everything starts with good planning and design, such as applying or updating to the most recent building codes and municipal zoning requirements, which will often identify known exposures," he told Insurance Business. "Brokers and customers should also consider going above and beyond minimum code requirements by acknowledging the local topography and historical events.
"Once this is done, consider adding safeguarding and complementary protective measures such as yard storage management, limiting the amount of fire loading, and increasing safe distances."
Other factors to consider, according to Billis – a former firefighter – include topography such as steep land slopes, building construction materials, building occupancy, water supply (such as well-maintained private hydrants) for fighting fires, and outside sprinkler protection.
"Management's attitude towards safety is key," Billis emphasized. "When it comes to fire safety, everyone should be involved from senior management to the frontline staff, and businesses need to create a sense of ownership and accountability.
"It's also important to plan for business contingency for essential operations and general business continuity with extended business interruption scenarios for these catastrophic events. As we noticed with the Fort McMurray fire, it took several months, even years before many businesses came back to the revenues they had prior to this devastating event."
Brokers: A call to action
Proactive actions and conversations can't prevent disasters, but they can equip customers for the worst-case scenarios from floods or fires. Beyond securing insurance coverage for customers, brokers play a critical role in educating their customers about the risks they face and helping them to mitigate their risks before a disaster strikes. They can also ensure customers leverage the service offered by insurers' loss prevention teams, noted Billis. Intact's Loss Prevention specialists offer comprehensive risk analysis and mitigation advice that may help give customers peace of mind.
"We want to help people understand what they can do to prevent a loss before it happens," said Evans, highlighting the work of the Intact Centre on Climate Adaptation, the federal and provincial governments, and the insurers and insurance associations across Canada. "There are lots of practical and cost-effective things that people can do to sleep better tonight and have a peaceful tomorrow."
Resources
Fire
Flood