Specialty Program Group Canada is hiring!
By joining SPG Canada and one of our brands (Cansure, i3 & Beacon), you'll become part of a rapidly growing company focused on providing innovative insurance solutions to support independent brokers in Canada. As a member of our team, you'll benefit from:
A dynamic, fast-paced work environment with boundless opportunities for professional growth;
Ongoing skills development with subsidies for tuition and professional accreditation;
Extended health & dental benefits and company-matched RRSP contributions; and
Competitive salary with potential for annual bonus.
1. Underwriting Assistant, Personal Lines - Langley B.C.
2. Underwriting Assistant, Personal Lines - Salmon Arm B.C.
3. Accounting Clerk, Vancouver
4. Intermediate Underwriter, Commerial Lines (Contractors) - Vancouver
5. Senior Underwriter, Commerical Lines (Core) - Vancouver
6. Office Administrator - Vancouver
7. Claims Adjuster/Examiner (Tele) - Vancouver/Remote
8. Claims Assistant - Vancouver
9. Underwriting Assistant, Commercial Lines - Vancouver/Remote
10. Underwriting, Personal Lines (Watercraft) - Toronto/Remote
11. Senior Underwriter, Commercial Lines - Vancouver/Remote
12. Junior Underwriter, Commercial Lines - Vancouver/Remote

We're proud to support a hybrid workforce. Positions with locations noted as 'Hybrid' allows for the successful candidate to work from home full-time; or work from home part-time with in-office access at our offices in the following cities: Toronto, Vancouver, Langley, and Salmon Arm.
Christy Knowles
Director, HR Operations
8346 Noble Road
Chilliwack, BC V2P 6R5
T: 604.703.7925 | C: 604.996.6175
W: www.specialtyprogramgroup.ca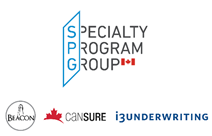 If you are a specialty insurance agency business (MGA/MGU) then you have the expertise and relationships that define your success; and we can offer you the services and expertise that can support your team and help to scale your vision. We want to talk to you about partnering with us.
If you are an insurance brokerage looking for best-in-class supplier partners who cover both standard and non-standard segments of commercial and personal insurance in a friendly, creative, and motivated way, then we can help and we look forward to meeting you to do so.
If you are an insurance company or reinsurance company looking for broad distribution and expertise based underwriting and claims services, and technology enabled program management in Canada, then our group has much to offer, and we look forward to discussing opportunities with you.
If you are an engaged and motivated insurance professional looking for a career opportunity in a dynamic group of specialty insurance agencies covering all regions and segments of the insurance market in Canada, then reach out and say hello, we want to meet you!
Please direct questions and broker inquiries to Sales & Marketing Director, Eric Langille, [email protected], for employment opportunities contact Director of HR Operations, Christy Knowles, [email protected].