Collision claims on the rise in four provinces: study | Insurance Business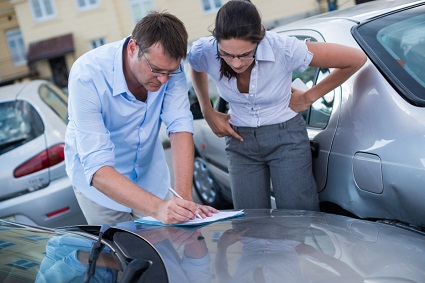 Brokers in Nova Scotia and Ontario have had a busy year: cities in these provinces experienced some of the most notable increases in collision frequency rates nationwide, according to this year's Safe Driving Study conducted by Allstate Canada.
In particular, Hammonds Plains, NS and Belleville, Ont., reported the largest increase in auto accident claim frequency, registering a 66% and 36% rise between 2011-2013 and 2013-2015, respectively.
Dartmouth, NS, Bradford, Ont. and Welland Ont. rounded out the remainder of the top five communities that saw a similar upsurge in claims that resulted in a payout.
The study, which examined policyholder claims filed in Alberta, New Brunswick, Nova Scotia and Ontario, also found that the auto accident frequency rate increased to 5.57% this year throughout the four provinces, representing a 7.3% spike in collisions.
It also showed that Spruce Grove, Alta. experienced the lowest collision frequency rate at 3.43%, while drivers in Halifax, NS reported the highest at 7.12%. New Brunswick as a whole had the lowest frequency rate of the four provinces assessed.
The incidents primary consisted of vehicles being rear-ended (25.17%), mishaps when conducting a turn or driving through an intersection (23.54%) and colliding into other parked cars (13.57%).
Earlier this year, Allstate's U.S. counterpart posted underwhelming second quarter results, which it said was the result of "increased frequency and severity of auto accidents." The carrier attributed this poor financial performance to low fuel prices, which acted as a catalyst for drivers to spend more time on the road.
Allstate Canada saw a similar trend, but wasn't so quick to blame the cost of commodities.
"What we're seeing as an industry phenomenon is that there is a rise in collisions that have occurred this year relative to years past," Ryan Michel, senior vice president and chief risk officer, enterprise risk management, Allstate Canada, said at the time. "But a lot of the volatility that happens year to year can be due to weather or other factors that could have an impact."
Michel also said that telematics and other developments will likely counteract this trend, but the market can adapt if needed.
"The industry will respond and we will, too," he said. "If some premiums are driven upward, we're thankful that Ontario has some good reforms being implemented in its system and that could offset the trend and lead to cost savings."