Award winner reveals what's "king" in the world of insurance | Insurance Business Canada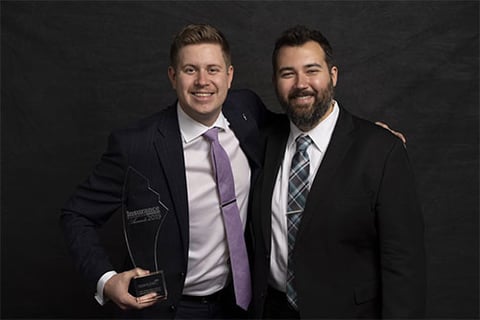 Insurance has been known to be a stick-in-the-mud industry, but the firms that are ignoring technology will be left in the dust by those embracing it. That's the advice from Fuse Insurance president Kevin Lea (pictured).
"Technology is the force multiplier you need to run a successful business in modern times and insurance businesses need to take advantage of the numerous tech solutions out there to run things more efficiently and deliver better customer service to the policyholder," he said.
Fuse Insurance won the award for Brokerage of The Year (fewer than 10 staff) at the 2019 Insurance Business Awards. Winning the award was a big surprise, according to Lea, as the brokerage was just over two years old at the time. Fuse Insurance is the first digital commercial insurance brokerage in Western Canada that works primarily in specialty markets like cyber, cryptocurrency and cannabis. Achieving this recognition among industry leaders as a young brokerage was an amazing accomplishment, Lea believes, and a testament to their phenomenal growth.
Now, despite the COVID-19 pandemic and the subsequent decline in networking opportunities and trade shows, Fuse Insurance continues to grow, albeit at a slightly slower rate than before. As the economy begins to reopen however, things are beginning to pick up again.
"Fuse was founded as a digital brokerage and my business partner Simon Hlywa is a software engineer by trade," he said. "We've always been set up to be very flexible and adaptive on the technology front, so when COVID-19 hit, we were able to transition to a work from home structure without interruption to deals and workflow."
Something that also contributed to their big win is Lea's involvement in the growth of the industry as a whole. Although Fuse Insurance is a small brokerage, Lea hopes their impact on the industry is greater. He is an active contributor to the Insurance Brokers Association of Alberta (IBAA), Insurance Brokers Association of Canada (IBAC) and other industry groups, also prioritizing networking events with the Insurance Institute and other key industry partners.
Lea said the award has added a sense of legitimacy, not only for their clients, but also in building industry relationships, in particular with Lloyd's of London. "It's a nice feather in our cap when we speak to brokers and syndicates to negotiate more advanced deals," he said.
Nominations are now open for the 2020 Insurance Business Awards. Lea believes a well-designed award application package can really help nominees stand out to judges. Fuse Insurance marketing manager Kate Jackson prepared a graphic summary of key accomplishments to date with metrics of success clearly outlined in an easy to understand format. Lea believes this visual, digestible way of presenting their successes definitely gave them a leg up on the competition.
Lea added that being at the awards gala in Toronto was also a great opportunity to connect with industry professionals that they don't get to enjoy very often.
"Fuse is based in Calgary, but we deal with providers on a daily basis that are based in Vancouver, Toronto and other parts of Canada," he said. "Having the whole Canadian insurance industry come together to meet up and network while having a laugh and enjoying the night is great."
The annual Insurance Business Canada Awards is the leading independent awards event for the insurance industry, with 21 award categories celebrating the achievements of brokers, brokerages, insurers, underwriters, risk managers, MGAs and more. Nominations are open now until August 07, 2020.