IBAO's Young Brokers Conference concludes with pitch competition | Insurance Business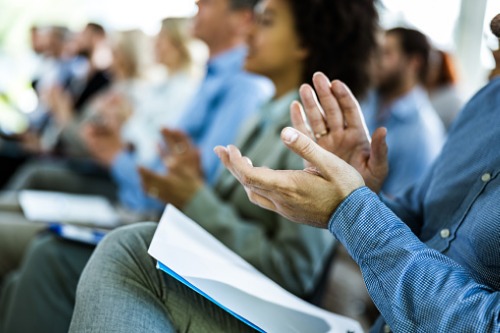 The Insurance Brokers Association of Ontario (IBAO) recently concluded its annual Young Brokers Conference (YBC) with a pitch competition, awarding the best sales pitches with cash prizes.
The YBC's "Pitch to Win" competition organized small teams of brokers in an effort to land the business of real-world clients. Brokers had their choice to compete for either a personal lines client or a commercial lines client, with the winning teams splitting a $5,000 cash prize provided by Trillium Mutual.
Read more: IBAO kicks off next phase of broker awareness campaign
To prepare for the competition, brokers took in two keynotes that offered actionable takeaways on communicating their unique competitive advantage and effectively positioning insurance products.
"We designed the Pitch to Win Competition to help these young brokers sharpen their skills at selling — selling beyond price — which is crucial to any successful broker and a key skill to have in a hard market," said Colin Simpson, chief executive officer of IBAO.
The winning team of the personal lines competition comprised of Lindsay Carder (Joslin Insurance), Alex Varney (TW Insurance Brokers), Paul Stewart (Cambrian Insurance Brokers), Rebecca Grech (McConville Omni Insurance Brokers), and Thomas Watson (Guardsman Insurance Services).
Meanwhile, the team that won the commercial lines competition had Scott Sleightholm (Kenny Insurance Brokers), Michael Shepherd (Will Marshall Insurance Brokers), Jessica Schiepan (McFarlan Rowlands Insurance Brokers), Joanna Mendonca (Staebler Insurance), Harrison Bateman (Smith Williams & Bateman Insurance Brokers), and Michelle Moore (Acumen Insurance Group).
IBAO's annual Young Brokers Conference was held from June 05 to 07. Brokers from across Ontario, as well as visiting young brokers from Alberta, Manitoba and Saskatchewan, gathered at the Hilton Niagara Falls and Fallsview Casino for two and a half days of intensive professional development and networking.