APOLLO Exchange CEO lifts lid on "exciting" partnership with Navacord | Insurance Business Canada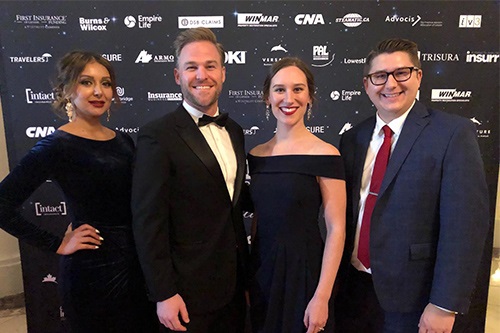 APOLLO Exchange CEO Jeff McCann is on cloud nine after announcing a "very exciting" new partnership with Navacord, a commercial insurance brokerage and risk management firm with more than 900 insurance professionals across Canada.
In this new multi-year partnership, Navacord will use the APOLLO Exchange technology platform, which enables brokers to quote and bind insurance online, as well as sell directly to customers through a white labelled e-commerce solution.
The insurtech firm, which recently won the award for Digital Innovator of the Year at the Insurance Business Canada Awards 2019, will gain access to Navacord's extensive broker network and commercial insurance expertise – two things McCann hopes will help drive growth and product development on the Exchange.
"It's very exciting to be working with Navacord," said McCann (pictured left centre, with APOLLO team members). "They're a fantastic group of professionals, and they have a great vision for their business. To be able to catch that momentum, work with them and help them to enhance their vision is a really cool partnership to be a part of.
"We're very lucky to have Melanie Muse, Navacord's chief operating officer, as our primary relationship there. She's got a great vision for the business, and she really sees the potential for a lot of Navacord's smaller commercial business to be automated on the APOLLO Exchange. It's wonderful to work with such forward-thinking and entrepreneurial professionals like Melanie. It makes this partnership even more exciting."
Read next: APOLLO Exchange welcomes Berkley Canada
There are three core ways that Navacord members will benefit from the APOLLO Exchange, according to McCann. The first is that their individual staff level brokers will be able to log into the APOLLO Exchange in order to quote, bind, and immediately get policy documents. They can gain incremental efficiency for being able to get small business policies instantly.
"We're also able to support their websites," McCann added. "A cool feature of Navacord is that the members keep their individual brands and they maintain the strength of those brands. We're able to white label our technology for each of those brands' websites, which means their customers can self-serve, get quotes, and bind their insurance whenever they like.
"Finally, we can help them to automate their programs. Across Navacord's brands, they have a variety of insurance programs for small businesses, which fit in really well with our technology. We're able to automate those programs so that the application is digital, the policy documents are issued digitally, and the payment is collected digitally, which creates a lot more efficiency within these small business portfolios."
Through 2020, McCann and the APOLLO Exchange team hope to build upon the momentum of the new partnership with Navacord. The tech firm now has over 100 broker partners across Canada, all of whom are drawn into an extensive feedback loop through which the APOLLO Exchange is constantly evolving.
"We work with over 100 brokerages, and so we really pride ourselves on our feedback loop with all of our broker partners who come to us with ideas to add products to the Exchange," McCann told Insurance Business. "Often, that's what drives our decisions on what product we should add next and what industry classes we should be focused on.
"Absolutely, our new partnership with Navacord will help us navigate what products to build, but we'll take that feedback from them in the same way that we would from any of our broker partners. We've got a whole broker success team whose sole priority is to interact with our broker partners to ask: 'What feature do you want next in the technology? What products do you want next on the Exchange?' And that feedback loop continues even after we launch a product."
With Navacord having over 900 staff and a billion-dollar portfolio, APOLLO's broker feedback loop will certainly get a boost, McCann admitted. He said: "They're definitely going to help us drive forward and figure out what opportunities make sense for us to build next on the Exchange. That's going to be our focus through 2020 – adding additional product lines to the Exchange so that we can better serve our broker partners."