Navacord experts sound off on the state – and fate – of the construction industry | Insurance Business Canada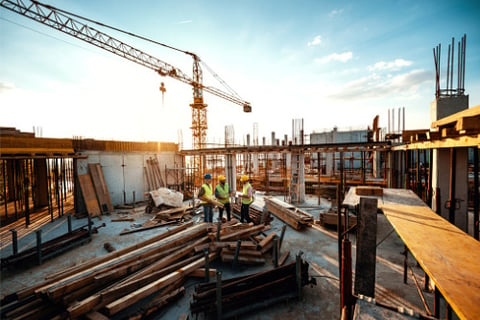 While much of the construction industry in Canada has been deemed essential amid the pandemic and related periodic government shutdowns, the sector has not been immune to notable developments that are impacting its exposure to risk. According to Navacord, not only have consumer and business behaviours evolved dramatically, but a return to normalcy is at this point tenuous, making uncertainty the only trend that construction professionals and their insurance partners can be certain about.
On February 24, leaders from across the Navacord group will come together to discuss the key issues facing the industry at the 2021 National Construction Conference – CHALLENGE + CHANGE, but for now, construction experts gave Insurance Business insight into what they've seen in this sector so far, and what they predict will be the big-ticket issues in 2021.
The challenges for the construction industry began – like they did for most businesses – in March 2020, when construction leaders were concerned about the impact that the pandemic was going to have on them and the industry as a whole. Various forms of shutdowns across the country had an effect on the amount of construction that was completed during the first few months of the coronavirus, as well as the profitability of the construction business, due to the impacts of COVID-19 on schedules, supply and delivery of materials, labour availability, and a myriad of other concerns, according to one expert.
Find out more: Learn everything you need to know about Navacord here
Nonetheless, "The construction business came back through 2020, and frankly, suffered less significant impact than I think a lot of industry insiders anticipated early on," said Gregory Petrela, president and managing partner at Petrela, Winter & Associates (PWA), a Navacord broker partner. "Contractors were resilient during the process, working with construction owners to maintain schedules to the best of their ability, and to address the cost implications related to the pandemic."
However, some parts of the construction business fared worse than others. Retail construction of box stores, for instance, slowed down significantly, and a lot of similar construction work was pushed back, shelved or even cancelled, given the impact of the coronavirus on Canadians' buying and travel habits. As a result, the impact to retail and commercial work in the construction space has been particularly notable and is anticipated to be significant going forward, noted Petrela, while on the other hand, residential and institutional type of construction has been maintained and appears to be on track, in part due to the government deploying capital into the infrastructure market.
In fact, PWA experts predict that the industry will see a bounce back over the course of the coming year, after taking a hit in 2020.
"Construction in an average year in Canada represents somewhere around 7% of GDP, and that's usually somewhere in the range of $75 billion-$80 billion in new projects starting in a given year," said Peter Toole, vice president and insurance practice leader at Petrela, Winter & Associates. "Last year, that dipped down to about $60 billion dollars, so coming down about 6%, which is pretty significant, but all signs seem to point to a rebound for 2021."
Besides the pandemic's direct impacts on construction work in Canada, other factors are likewise at play. In a recent outlook report, Navacord outlined that there continues to be ongoing consolidation of national general contractors, large heavy civil firms, and subs and suppliers, which is in turn creating a concentration of resources that makes it difficult for contractors to diversify a subtrade base or a customer portfolio. Navacord is also keeping an eye on green energy and efficiency retrofits, which are two areas that the Canadian Infrastructure Bank has highlighted as a target for further investment, earmarking $10 billion from its working budget of $35 billion for sustainable infrastructure.
Legislative change is another area of focus for the construction industry, considering that federal prompt payment and provincial lien legislation updates are underway.
"Much of the current legislation at the provincial and federal level is pretty outdated, and it's a long and arduous process to try and affect change to modernize those laws," said Petrela. "There have been a couple of districts – and Ontario is certainly one – where there have been significant changes made in the last 12 to 18 months, and our clients are still learning what those impacts mean to them."
Additionally, there are certain components that have become clear in terms of the lien legislation changes, and deadlines and timeframes within which specific actions have to be performed, continued Petrela, "But there are other things around prompt payment, where everyone's still trying to get their feet wet – and it's not just construction contractors. It's also owners who are a key part of that process, and government as well."
To learn more about the key developments impacting construction that will be up for discussion at Navacord's 2021 National Construction Conference – CHALLENGE + CHANGE, click here.