'Significant investment in talent' continues to be key goal for Navacord in 2022 | Insurance Business Canada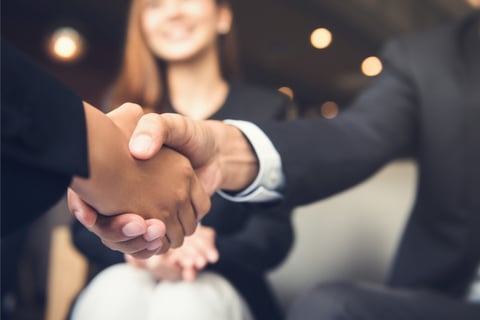 This article was produced in partnership with Navacord
It's no secret that the talent landscape is shrinking, and over the next 5-10 years brokerages won't have the same level of qualified candidates ready to come in, roll up their sleeves and dive right into the work. Building great talent is a goal and a challenge for 2022, with training and development initiatives an increasingly critical part of the business – because, as Navacord well knows, great teams don't just happen, they're grown through significant investment in talent.
"This is an area we've focused on for a number of years and we've created, with the support of subject matter experts across our business, an innovative and bespoke ability to develop our sales and service professionals which differentiates us against our competition," said Kristen Coulombe, senior vice president, human resources at Navacord, in a recent podcast.
A focused Learning and Development team offers programs throughout the year that are developed specifically to expedite learning. For example, newcomers to the industry can access programs to help them become expert advisers in the business, which has worked well for Navacord especially in regional markets, or there's the one-year Producer to Partner phased training program, which offers on-the-job learning for sales professionals in the early stages of their career. If they qualify, it puts new talent on the road to becoming equity shareholders in the business and, in 2021, Navacord also opened up shareholder opportunities to a wider scope of operational roles, not just those that are revenue generators. This unique equity model "has become critical to the ongoing growth and success of our organization, and works well as a rewarding retention strategy for us," Coulombe said.
Brokerages need to focus on adding resources and building out training initiatives. In Navacord's organizations, there's a focus on making sure the infrastructure of the company has the right roles in place so junior people can move in, and also the right development plans to help them move up. Organizational structure needs to be aligned to support those programs and all the various levels of talent to move through them, and mentoring continues to be essential when it comes to embedding learning programs into the reality of the role.
If Chris Huebner, president and CEO of Lloyd Sadd, a Navacord broker partner, was to summarize the vision for Navacord, it would be an organization that gives people incredible opportunities for a career and puts the best insurance people in front of clients at all times, and that's achieved by building competence with respect to technical training, understanding industry sectors and working on soft skills.
"We build up confidence by giving them opportunities to work under the guidance of key mentors and professionals, and lastly, and most importantly, is the collaboration effect of Navacord," Huebner said. "We have over 150 shareholders across Canada who are all dedicated to fostering the next development of the next generation - there are huge opportunities for anyone entering this career."
The COVID-19 pandemic has impacted the way brokerages recruit talent, making it more challenging to get in front of potential candidates at a time when Navacord has ambitious organic growth goals to meet. In this environment, it's key to employ a variety of methods to be successful in attracting talent and that task doesn't just fall to the HR department any longer. It's a collective effort among a number of leaders to drive the organization's growth initiative.
Chris Miller, chief operating officer at Lloyd Sadd, said Navacord very much utilizes an "all hands on deck" approach to growing the company that helps overcome some of those obstacles. From bringing in people who are new to the industry - the best recruiting he's seen was by Huebner, who struck up a conversation with a door-to-door salesman and the man now works with the team in a marketing/broking capacity - to leveraging the internal referral program where the current workforce is the company's biggest advocate, it "comes down to supporting people and making them feel comfortable in their role."
"It takes a community," Miller said. "We all strive to find people."
Coulombe agreed, adding Navacord isn't afraid to look for diverse candidates outside the normal channels or to try different strategies around talent attraction to see what works. Industry experience is nice to have, but individuals outside the industry who are driven, passionate about what they do and have an entrepreneurial spirit also fit into the culture and growth mindset at Navacord.
"When we bring on a new individual to our team, we try to set them up for success in the first year of their employment and set out a roadmap on how they're going to learn the role and the business in order for them to be successful," Coulombe said. "We're investing in them from the start, and are paying attention to their onboarding in a meaningful and purposeful way."
At its core, a brokerage is an advice-based business which means everything revolves around its people. In 2022, Navacord's commitment to investing in employees and creating a culture that retains, educates and enables their success is paramount and the continued growth of the business through the diversity and development of employees is Navacord's mission - all aligning with the goal of building the great Canadian brokerage.
To hear the complete conversation, tune in to the podcast Rethinking talent recruitment, retention, and culture.
Navacord is a leading insurance and risk management brokerage firm dedicated to providing expert solutions to businesses across Canada. The preferred partner for insurance brokerages nationwide, Navacord supports them with long-term, strategic growth through our enhanced risk services, sector expertise, strategic capital, and access to carriers, while maintaining their unique identity. Together, we are building the great Canadian brokerage.